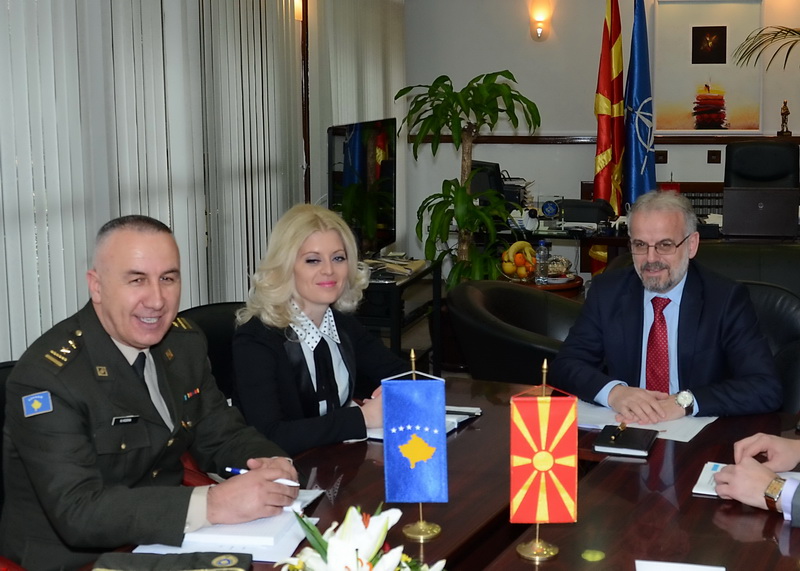 Skopje, February 6, 2013/Balkan Independent News Agency
The excellent mutual cooperation in the domain of defense and security which is confirmed through numerous joint activities and the opening of the two countries for the continuation and advancement of this cooperation were some of the topics discussed in a meeting held today in Skopje between the Minister of Defense, Talat Xhaferi and deputy minister of Kosovo Security Forces, Jasmina Vasic.
Xhaferi and Vasic were satisfied about the fact that Kosovo Security Forces are now able to use the capacities of the "Krivolak" shooting polygon of the army in the outskirts of Skopje and other capacities which are part of the Ministry of Defense, such as the Regional Center for Public Relations, which is also a NATO center for the Partnership for Peace countries.
Minister Xhaferi said that Skopje is ready to share its experience and capacities on a bilateral and regional level.
"This way we will enable a closer cooperation between countries of the region, as a prerequisite for peace, stability and prosperity in this part of Europe", said minister Xhaferi.
The vice minister of Kosovo has expressed her gratitude and readiness for a closer cooperation with authorities of Skopje in the domain of defense.
"So far we have signed several agreements and cooperation is going well. We also aim at other projects in the domain of defense and regional security", noted Vasic.
Kosovo's vice Minister of Defense, who is from the Serb community, also visited the Military Academy, where 6 members of Kosovo's Security Forces are being trained. /ibna/