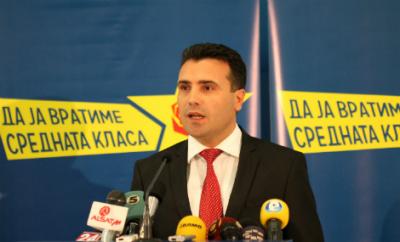 Skopje, October 9, 2013
Largest opposition party in the country, LSDM promoted today one of its economic projects with the motto "Let us bring back the middle class".
Head of LSDM, Zoran Zaev said that this project aims the refund of 15% of VAT to every citizen of the country.
"This will bring back 130 million Euros to the people of this country. But this measure requires citizens to be more disciplined and to ask for their receipt while paying for goods and services", said Zaev.
According to him, every year, every individual or household that preserves VAT receipts will benefit up to 20 thousand to 30 thousand denars or 500 Euros returned to them at the end of the year. VAT in FYROM is 18% and according to the opposition, 15% of the amount paid for VAT will return in the pockets of citizens.
The refund of this money is planned to be made every month. This would make black market harder to survive and citizens would be more interested to buy products accompanied by a VAT receipt. /ibna/