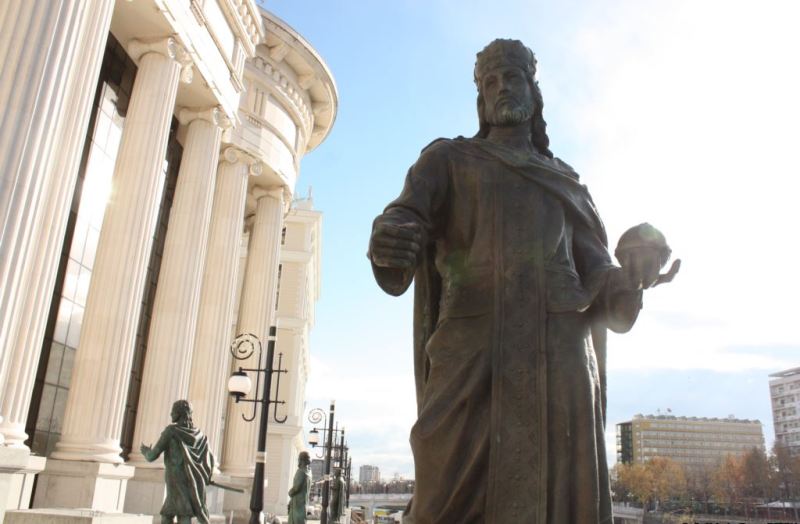 Skopje, December 19, 2013/ Balkan Independent News Agency
The budget of the city of Skopje has been considered as a paradox and unacceptable for the Albanian community, which occupies a significant part of the population. For 2014, Skopje has allocated only 19 thousand Euros for communes which are mainly inhabited by Albanians.
Meanwhile, for the sterilization of street dogs, the municipality has allocated a fund of 90 thousand Euros. Funds have also been allocated for the maintenance of the monument of Tsar Dushan (photo), who is known by the Albanian community in Skopje as a murderer of Albanians. For the maintenance of his monument, the municipality of Skopje allocated 350 thousand Euros.
Idriz Orana, councilor of the Albanian Democratic Party in FYR Macedonia, says that discrimination is outrageous. According to him, local authorities allocated 5 times more funds for street dogs than Albanians.
Mr. Orana says that the allocation of the budget of Skopje is a scandal and discriminating for Albanians. He also says that "what is more tragic", is the fact that allocation of funds has also had the approval of Albanian councilors of BDI (Democrat Union for Integration).
"Capital investments in this budget don't even provide 1% of funds for two Albanian communes such as that of Saraj and Çair. What is more denigrating is that 5 million denars (90 thousand Euros) have been allocated for street dogs, while for Albanians 1 million and 120 thousand denars (19 thousand Euros). For the monuments in Skopje, for the maintenance of the monument of Tsar Dushan, the murderer of Albanians, the city of Skopje allocates 20 million denars or 350 thousand Euros", said Idriz Orana, councilor of PDSH in the municipality of Skopje.
BDI councilor in the city of Skopje, Qemal Musliu shares different opinions with the opposition councilor. Mr. Musliu says that there will be investments for construction of roads and water supply systems in Albanian inhabited communes. Mr. Musliu says that PDSH doesn't have any idea how the budget of Skopje is allocated. According to him, half of the funds are allocated for general needs, such as funding for high schools and public enterprises which are used by all citizens.
"The budget cannot be read that way, because we have to deal with the budget of Skopje, where out of the general amount allocated for 2014, around 45% is spent on the needs of the administration of the city on wages, general works, etc. There are also general projects, such as 250 million denars worth of subsidies for public enterprises, new buses, lorries for wastes and these investments are in the interest of all the citizens of Skopje. Around 100 million denars are allocated for high schools and we all know that 100 classes in the high school system are conducted in Albania" says Qemal Musliu, councilor of BDI in the City of Skopje.
On the other hand, the councilors of PDSH say that they presented 32 proposals to the Skopje's City Council (amendments) aiming to increase funds for Albanians, but these proposals were overthrown. The budget was approved by the VMRO DPMNE-BDI coalition. /ibna/