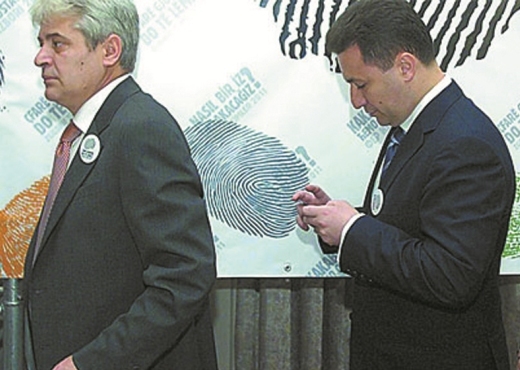 Skopje, May 8, 2014/Independent Balkan News Agency
By Naser Pajaziti
Negotiations continue for the creation of the new government between VMRO-DPMNE, which was the party that won the April 27 elections and Albanian party BDI (Democratic Union for Integration), which won the majority of votes among Albanian voters.
Both of these parties are holding intensive negotiations, but with major disagreements. The two parties do not release any declaration about these disagreements.
But, pro government media and media close to VMRO-DPMNE have written today in relation to these negotiations. According to "Dnevnik" newspaper, VMRO-DPMNE demands from  BDI to recognize the legitimacy of the country's elected president, George Ivanov, because during the campaign, the Albanian party didn't come out with a candidate and decided not to recognize any of the presidential candidates, including Ivanov, which it considered as an illegitimate president for the Albanians and that he would never be recognized by Albanians.
"President Ivanov is the pivotal point of these disagreements, because they cannot refuse to know the president which was elected by the citizens through democratic elections. If they want to be part of the coalition, they must recognize president Ivanov", wrote "Dnevnik". According to the newspaper, Monday will be decisive, as president Ivanov is expected to take his oath in parliament. If BDI fails to show up, then it means that the two parties have failed to reach an agreement.
According to local media, VMRO-DPMNE also refused to give the post of the speaker of parliament to BDI, a request which was articulated by the Albanian party during the electoral. According to this party, Albanians should have one of the key positions in the country: president, prime minister or the speaker of parliament. But this weekend is expected to be decisive for both parties, as on Saturday, the new parliament will be constituted and the speaker of parliament will be elected. /ibna/