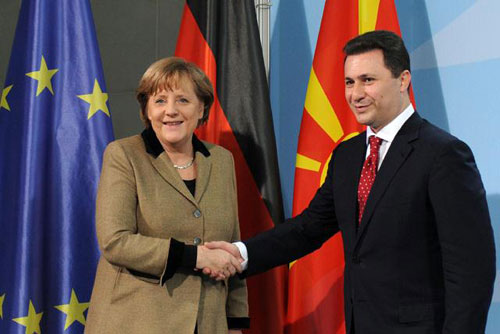 IBNA Special Report
Skopje, August 28, 2014/ Independent Balkan News Agency
By Naser Pajaziti
The former Yugoslav Republic of Macedonia doesn't have optimistic expectations from today's Summit of Western Balkan taking place in Berlin. In this Summit, the country will be represented by prime minister Nikola Gruevski, Foreign minister Nikola Popovski, Economy minister, Bekim Neziri and deputy prime minister for economic affairs, Vladimir Pesevski.
Foreign minister Popovski has declared that this summit is important for the country and the chances for the solution of the name dispute.
"Germany is interested to see the process of integration moving forward, because it's now clear for chancellor Merkel and German diplomacy that the continuation of the status quo for Macedonia, with pointless delays of the start of talks with the EU and accession in NATO, is not good for the region. Therefore, German diplomacy wants this issue to be solved and they know that the main problem is Greece's blockade", declared Popovski. But, government in Skopje is hoping to see positive results from the summit in terms of the economic development of the region and the country.
But, the highest authorities of the country do not believe that the name dispute with Greece will be discussed on a high level or that Athens will be asked to reach a fast compromise.
Experts of foreign policies say that this event taking place in Berlin will not offer any concrete solutions to the name dispute.
"I don't think that the name dispute will be discussed, but we're expecting for all countries to be asked to finalize all pending disputes and find compromises, as the symbolic of this summit is reconciliation and positive perspective", declared the expert from the Center for European Education, Bojan Maricic. According to him, this meeting is not expected to come up with conclusions as to the solution of serious issues, such as the name dispute.
The MP of the Albanian party in power, BDI (Democratic Union for Integration), Artan Grubi hopes that the Berlin Summit is an event where clear instructions will be given for the solution of all disputes and pending issues in the Balkan. "We hope that in the framework of these issues, the name dispute will be discussed and solutions will be intensified, in order to achieve integration in the European Atlantic structures. All international relevant factors must encourage Skopje and Athens to reach a compromise on the name", says Grubi MP.
Last month, in a meeting with Balkan leaders in Dubrovnik, the German chancellor said that Germany is ready to engage in constructive cooperation for the solution of the name dispute, but added that this cannot be done without compromise. The official agenda of the Summit doesn't contain the topic of the name dispute or other pending issues in West Balkan. /ibna/