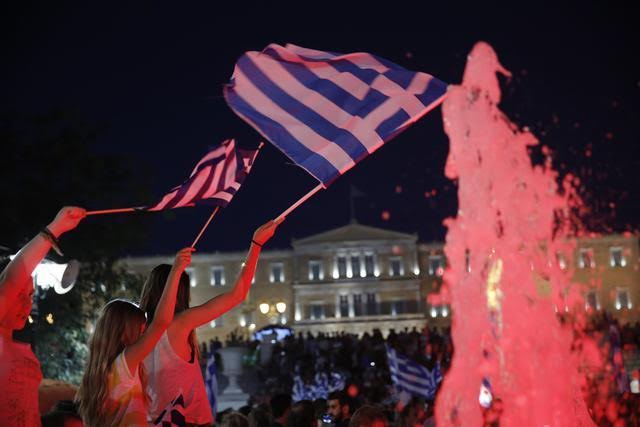 Skopje. 6 July 2015/Independent Balkan News Agency
By Naser Pajaziti
The referendum result in Greece has been closely followed in FYR Macedonia. This has been one of the main topics in the country's media and press.
How will the Greek "No" be reflected in FYROM and what will be the consequences, have been some of the comments on the media in Skopje.
Economy experts in Skopje say that dramatic developments are expected in regards to the Greek crisis. But according to them, this situation is also affecting commercial relations between the two countries.
Mitko Aleksov from the Union of the Chambers of Commerce, says that this will be reflected in FYROM and that the first one to be hit will be commercial cooperation.
"The weak activity of the Greek economy may affect the work of our companies. So far, the situation is under control and that the necessary measures have been taken. Our companies which are collaborating or producing for the Greek market have had no problems so far and the necessary payments are taking place", Mitko Aleksov said.
Aleksov said that during this week, there will be a meeting with national companies that collaborate and do business with Greece, to be informed on these relations.
According to him, if Greece goes back to its former currency, Drachma, then it will have a weaker value and this will affect the value of the price of production in FYROM.
The Greek crisis is also having an impact on border cities in FYROM. During the weekend, a large number of Greeks have entered the country to be supplied with food, fuel and other goods.
Massive purchases have been reported and this has led to a growth of trade in cities like Gevgelija, Dorjan and Strumica.
The governor of the Central Bank in FYROM, Dimitar Bogov, said that he's not expecting an impact from the Greek crisis.
"We are not expecting Macedonia to need any help from abroad. We believe that the domestic banking sector is stable, but it's always good to have open options", Bogov declared.
So far, the Macedonian government has not commented the Greek referendum.
Tour operators in Skopje say that holidays to Greece are being booked without any problem and that citizens are being told to get ready before the journey.
Bisera L, a citizen from Skopje, says that she has booked holidays in Greece during August, after finding a good deal. She explains that she doesn't fear going there and that she will have cash on her.
"A month ago I booked my hotel and the tour operator assured me that everything is ok. I believe that there will not be any problems and we will be well prepared in order not to encounter any difficulties", Bisera says. /ibna/