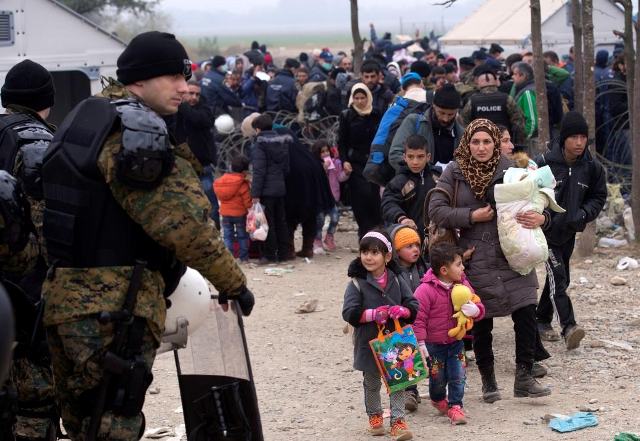 Skopje, 26 January 2016/Independent Balkan News Agency
By Naser Pajaziti
Following several articles published in international media that the EU will consider the closure of border between Greece and FYROM to stop the large number of refugees, different reactions have come from Skopje.
Minister of Foreign Affairs, Nikola Popovski says that the country's aim is not to close the border, but that every decision will be coordinated with the European Union.
Professor of the Faculty of Security, Trpe Stojanovski told IBNA that this measure will require organization, monitoring and investment by the EU.
"This measure will increase security and our country will be consider as a complementary factor for regional security and it will be alongside EU in the solution of the refugee crisis", Stojanovski says.
According to him, FRONTEX police teams will be place on the border with Greece in the framework of these security measures.
Idriz Sinani from the International Forum for Human Rights in Skopje told IBNA that the plan for the closure of borders must be well studies, because the crisis can erupt in other neighboring countries.
"In case the border between Greece and FYROM closes, then another corridor may open in Bulgaria or Albania. In this case, the crisis may spread even more. It would be better if the EU opens a regional center of accommodation for refugees in an area between the three countries", Sinani said.
British newspaper, Financial Times says that leaders of the European Union are planning a "radical plan" to stop the numbers of refugees from the Balkan, by proposing a full closure of border between FYROM and Greece in order for the Greek authorities to protect the external borders of Europe.
Meanwhile, in spite of the weather, number of refugees is not going down. Around 2 thousand refugees have entered the country in the past 24 hours.
From the end of last year, Macedonian authorities have applied a measure of control on the southern border, by allowing only the entry of Syrian, Afghan and Iraqi citizens, who are considered as refugees coming from war zones, while they have stopped the entry of refugees from African and Asian countries, who are considered to be economic migrants. /ibna/