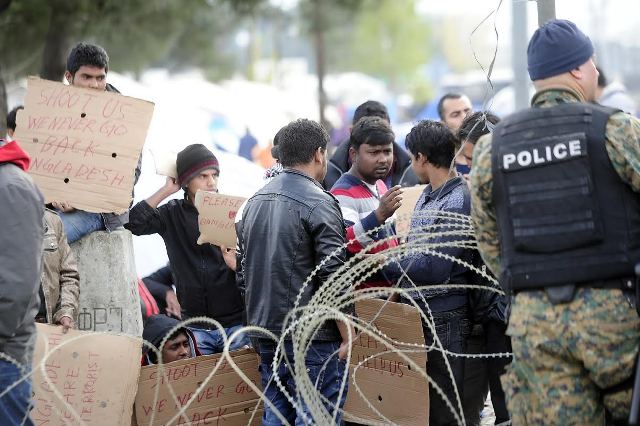 Skopje, 4 March 2016/Independent Balkan News Agency
By Naser Pajaziti
In the past 24 hours, only 316 refugees from Syria and Iraq have been allowed entry in the territory of FYROM. According to the ministry of Interior, they consisted of 264 Syrian refugees and 52 Iraqis, mainly children and women.
But, on the other side of the border, there are around 32 thousand refugees from Syria, Iraq, Afghanistan which are expecting the border to be opened in order for them to join the Balkan route.
President Gorge Ivanov reiterated today that FYROM doesn't have the necessary capacities to cope with this large number and that this situation will not change unless other neighboring countries and Austria open the borders.
From the OSCE conference today in Rome, Ivanov demanded today the prevention of the refugee crisis in the border with Greece as soon as possible.
"In order to prevent the humanitarian crisis with Greece, it's necessary for the territory of Greece to be emptied as soon as possible from refugees, not through the Balkan route but through an air corridor", Ivanov said.
Ivanov said that his country is prepared for possible scenarios and will act the same as other countries of the Balkan route.
Ivanov demanded for the European Union to intervene and find a solution. But, as he said, OSCE and EU do not have functional mechanisms to make decisions in conditions of crisis.
Foreign Minister Nikola Popovski called on Greece to remove the thousands refugees who are staying in the border. According to him, the refugees cannot be held in such conditions.
"The opening of the border for refugees will depend on the other countries of the Balkan route, in the north of the country. We are expecting those countries to tell us how many refugees we can accept and then we can decide to let them pass", Popovski declared.
Lubinka Brasnarska of UNHCR in Skopje says that the countries of the Balkan route have a sovereign right to manage their borders, but the need for international protection of refugees and their rights must be taken into account.
"This situation must be examined in order not to let people who have faced war to suffer any more", Brasnarska said.
The situation on the border continues to be tense. In the border with Greece, there's a presence of humanitarian and medical teams, which are helping refugees, while the border strip is being controlled by numerous police and military forces, which are accompanied by the Frontex European police mission./ibna/