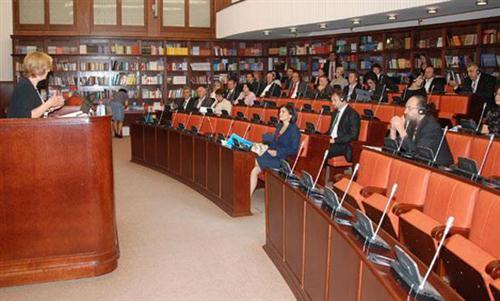 Skopje, December 19, 2013/ Balkan Independent News Agency
The placement of the monument of king Tsar Dushan has provoked debates once again between Albanian political parties in the framework of the Parliamentary Committee for Cross Ethnic Relations.
MPs of the largest opposition party, PDSH have demanded for the issue of the monument of the Serb king to be included in the order of the day. But, on the other hand, the head of the Committee, BDI member of parliament, Ermira Mehmeti, backed by the MPs of the majority have voted "against" the proposal of PDSH, thus not allowing for this "hot" topic to be in the order of the day. The proposal for the debate on the use of Albanian language made by PDSH lawmakers, was not accepted either.
PDSH lawmaker, Bekim Fazliu said that Albanian MPs of BDI voted the same as Serb MPs Dragisha Miletic and Ivan Stoilkovic and according to him, their policies are in line with each-other.
"With this voting, you have shown that it's you, the BDI that have placed Tsar Dushan. You are not protecting the interests of Albanians and Albanian culture, given that today you have decided to discuss only the Serb and Vlach culture, avoiding the Albanian culture", declared Fazliu.
But, BDI lawmakers have not reacted and not commented the declarations of the Albanian opposition party. /ibna/