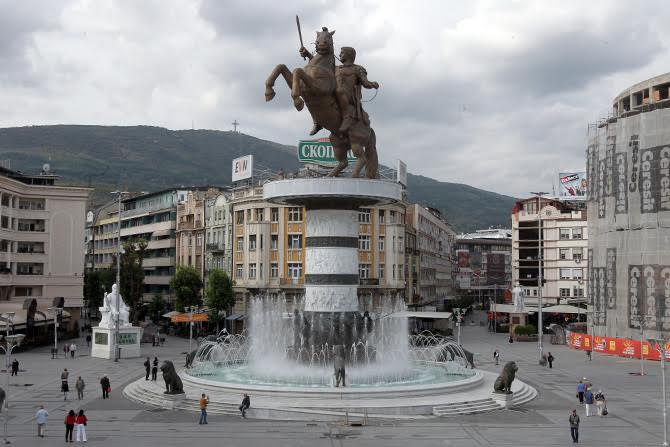 Skopje, 1 March 2016/ Independent Balkan News Agency
By Naser Pajaziti
"Skopje 2014" project which continues with the construction of monuments and statues continues to provoke debates as to its positive or negative effects.
Such public debate has gathered business people, representatives of civil society and foreign tourists, who praise this project of Baroque type buildings, monuments and statues to commemorate key figures of the Slav-Macedonian history.
The head of the Association of Constructers at the Macedonian Chamber of Commerce, Andrea Serafimovski praises this project, as according to him, it has created new jobs and has offered work for construction companies during this period of crisis.
"Of course, construction has depended on this project. It has been welcomed by all construction companies, who have engaged their workers and resources", Serafimovski said.
Nikola Pisarev, activist of civil society says that this project has also had negative effects. According to him, besides iron, cement and other materials produced in the country, the other materials used in the project come from abroad. He says that tourists come to Skopje not to see "Skopje 2014", but other things.
"People come to Skopje to see Carshi, they come to see Skopje's suburbs, Matka, mosques, churches", Pisarev says.
According to him, the biggest attraction in FYROM, the "City Mall", which has had a cost of 5 million euros, has more visitors than Skopje 2014.
Irfan Zeneli, manager of "Bashak tours" says that project Skopje 2014 has had positive effects and has attracted more foreign tourists.
"Before the project, we used to boast about the historic symbols. Now that we have Skopje 2014, I think that the effects have been positive", Zeneli said.
To better know what tourists make of it, IBNA spoke to an American tourist in the center of Skopje. He says that Skopje's oldest part is impressive.
"My first impressions are that of an old and beautiful place. Some parts of the city seem modern, such as the part where the shopping center is located. I don't know much history about this place, but we are shooting photos and I will later look into history books about them. I liked the castle very much", the tourist says.
Skopje 2014 is one of the biggest projects of the capital and over 500 million euros have been spent for it. /ibna/