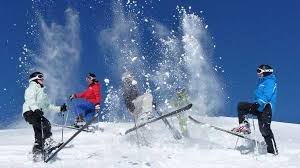 Bucharest, December 14, 2015/Independent Balkan News Agency
By Irina Stoica
In a country where ski slopes are in high demand, a new option is now in store. A new ski slope for beginners has been opened today in the mountain resort of Straja, in Hunedoara County.
The name of the slope has rather tropical influences, so to speak. It's been baptized "Baloo" and sends us back to the famous "Jungle Book" bear character. But there are no bears and no dangers on this brand new slope. It's very friendly with those whose romance with this winter sport is at its beginning.  The "Baloo" ski slope has low, close to minimal difficulty, and on the 100 meters prepared for learning skiing there are two flat portions and a slight slope. "'Baloo is the ideal place for those who want to learn to ski or skateboard.
The 25 ski trainers will be available to tourists throughout the winter season" says Marius Fodoran, administrator of Straja ski school. The layer of snow in the resort of Straja measures some 25 centimeters on slopes. One can ski on all slopes and cable transport installations are functional.
Mountain rescuers expect the resort to be reached by about 1,000 tourists on Sunday and are counting on the exceptional quality of the slopes to draw the ski lovers.