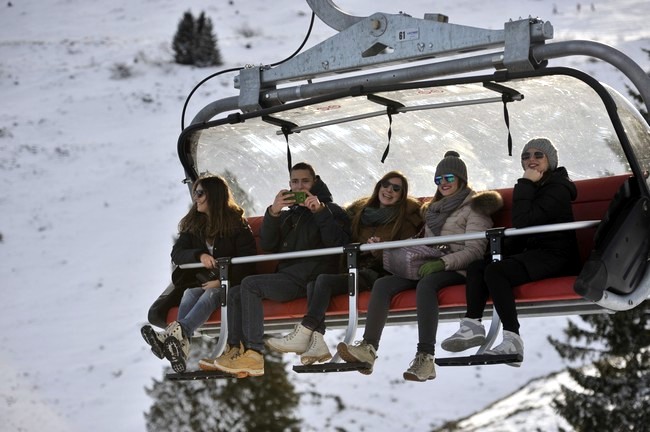 BiH mountain resorts on Vlasic, Jahorina and Bjelasnica opened the ski season but since last February these places haven't seen a single snowflake.
Many resorts are in trouble since last season was one of the worst in the ski tourism. Season 2015/2016 will be remembered as the "season of loss", because many of them, on the basis of previous good seasons, invested large amounts of money in new equipment and ski lifts. Jahorina opened the biggest lift with six seats in a row but there was not enough snow and skiers to even begin repaying the investment. There is a similar situation on the mountains Bjelasnica and Vlasic, but the management of the resort on Kupres was clever enough to stop all investments and to wait to see how the next several seasons will unfold. This resort is, maybe, the luckiest since it is located near Croatian cities Split and Sibenik, so many of citizens from this country are coming to spend the weekend on the snow.
But nobody knows what this season will bring. Managements are looking at the sky and weather forecasts but there is no sign that skiers will see natural snow before next year. In that situation, resorts begun to produce the artificial snow, just to open the ski slopes and to start the season. Snow is welcome but loans cannot wait.
Employees on the Bjelasnica Ski center "Babin Do" produces enough artificial snow just to open the season. The additional problem is that temperatures during day are too high for this kind of snow and it is possible to keep it just on the highest areas. Since just part of the slopes are in use, this resort decided to lower the prices of ski passes until the opening of all slopes.
Jahorina ski resort opened the season like it is fully covered by natural snow, hoping that the visitors will see real snow very soon. They had two "green seasons" and the third would make a lot of damage to investors. But management decided to open the resort with one slope in full function with less than 30 centimeters of snow. It means that about 12 percent of all ski slopes are under snow.
The Mayor of East Sarajevo, Nenad Samardzija, emphasized on the opening ceremony the importance of Jahorina in the development of tourism and economy in this part of state. He added that  Jahorina is a destination which offers about 5 000 accommodation facilities.
"Fully snowed trails will be priority number one in the following period", said Samardzija.
Speaking of occupancy of their capacities, he stated that 60 to 70% of accommodation is reserved at the moment, and that they already have about 3,000 reservations regardless of the amount of snow.
It sounds encouraging, but the nature is unpredictable and management can just hope that this season will be better than the previous ones. Vlasic ski resort opened the season with the competition in preparing the best beans soup. The snow canons were working overtime to provide the minimum of snow for opening ceremony but organizers promised to their clients that they will do everything to make the season great. For all of them the biggest problem is that artificial snow does not come for free./IBNA