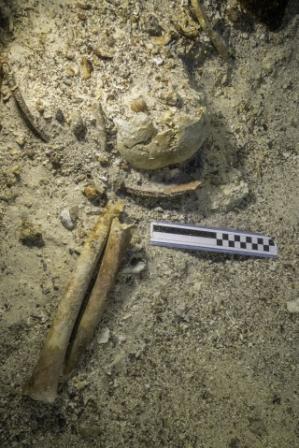 Athens, September 19, 2016/Independent Balkan News Agency
Review Hari Stefanatos
Skeletal remains (skull, long and smaller bones) of a person who was stranded in Antikythera Shipwreck during its immersion were identified and pulled up during the search conducted by the Department of Underwater Antiquities and American Oceanographic Institute Woods Hole, from August 28 to September 14th.
Bones from at least four different persons had already been identified in the shipwreck during the investigations of the years 1900 – 1901 and 1976. The position of the bones and their relationship with the other findings near them are evidence that the ship was violently shipwrecked. Additionally, the programmable anthropological and genetic (DNA) analyses are expected to give evidence for the dead himself, ie gender, age at death and the general reconstruction of the way of life.
According to the announcement of the Ministry of Culture, an important find is considered the discovery of the lead "katapeiratiria", weighting 50 kg. On the basis of its features, the object is identified with a probe to measure the depth of the seabed and the monitoring of its nature.
This tool is considered vital for safe navigation in antiquity. Earlier similar instruments date at least from the 6th century. In the shipwreck has been found another katapeiratiria in the investigations for the years 1900-1901.
On the occasion of the results of the second phase of underwater research in Antikythera for the year 2016, the Department of Underwater Antiquities completed its new specialized laboratories in Propylaea street, which will contribute to the early and effective maintenance of the findings of this important wreck. The work is carried out with the support of the Catherine Foundation Laskarides.
The Antikythera investigation is under the auspices of the Greek Presidency of the Republic and the funding was from funds secured by the Oceanographic Institute of Woods Hole.