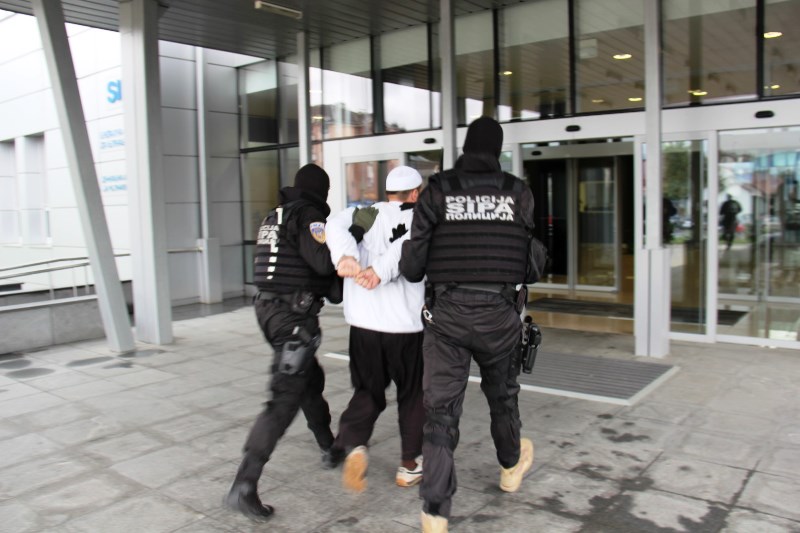 By Mladen Dragojlovic – Banja Luka
A total of 16 members of Salafi community in BiH were arrested on Wednesday morning in the police operation under the code name "Damascus".
One of them is Husein Bilal Bosnic, leader of Salafi community in BiH, who is very well known for his radical statements. Another is Hamdo Fojnica, father of the first Bosnian suicide bomber in history. His son, Emrah Fojica, detonated his explosive jacket in Iraq last month killing himself and 24 other persons. Them and others arrested are indicted for financing terrorist activities in Syria and Iraq, as well as for the organization and instigation of community members to go to Syria and fight in the war against Bashar al Assad's regime.
Some of them were arrested because they said in public that they have just come back from the war in Syria. BiH parliament, earlier this summer, adopted a law which bans departure of BiH citizens in wars abroad.
State investigation and protection agency (SIPA) spokesperson, Kristina Jozic, said on a press conference in Sarajevo that police investigations found a "large number of weapon and military equipment".
"This action shows that BiH state institutions are dedicated to the fight against terrorism, and it is one of its priorities", said Jozic.
She added that SIPA is cooperating in this operations with police agencies in the region. Jozic said that the operation "Damascus" was conducted in Sarajevo, Kiseljak, Zenica, Maglaj, Srebrenik, Zvornik, Buzim and Teslic.
Although many in BiH welcomed this move as a step forward in the fight against terrorism, an ant-terrorism expert Dzevad Galijašević considers that it is more propaganda than a real operation.
"SIPA conducted on operation against those who support ISIL forces in Iraq and Syria, but the real danger for BiH are those who support Al Qaeda. Police arrested Bilal Bosnic, who spoke in favor of ISIL, but one of the most radical Al Qaeda supporters, Ajman Avad, is free to walk on the streets of Zenica. I think that ISIS supporters represent a smaller danger for BiH than those who support Al Qaeda", said Galijasevic for IBNA.
He added that one of the former Salafi leaders in BiH, Nusret Imamovic, went in Syria to fight in Al Nusra, a fraction of Al Qaeda, and calls supporters to go to that country and take part in the war.