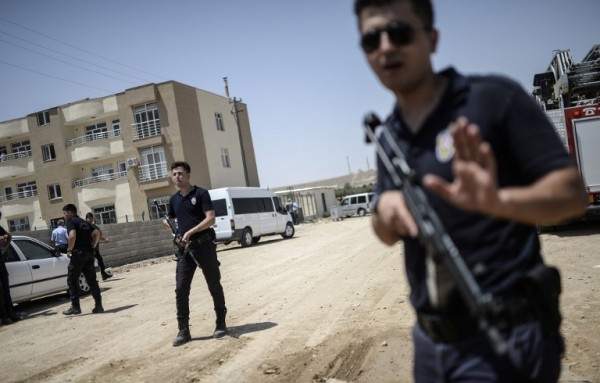 Ankara, July 22, 2015/ Independent Balkan News Agency
Kurds murdered Turkish police officers
PKK: "These are retaliation for the ISIS attacks" – "The policemen were working with jihadists"
By Manolis Kostidis
Dangerous dimensions has taken the situation in southeast Turkey after the attack by suicide bombers in Suruc Monday, which resulted in the death of 32 people and the injury of 100. The attack was the work of Islamic State against the Kurds of southeast Turkey.
On Monday morning in the same area two policemen were killed, with the PKK taking responsibility for the attack.
The policemen were found dead with a bullet to the head in the house where they lived together.
To PKK announced that they murdered the policemen in retaliation to the attack on Suruc, "since they were collaborating with the gangs of the Islamic State (ISIS)".
The Kurdish and the pro-Kurdish party HDP have accused on many occasions the president of Turkey Recep Tayip Erdogan, as well as the Davutoglu government of supporting ISIS to overthrow Basar Asad in Syria. The Turkish newspaper Cumhuriyet calls the prime minister "to swiftly change the policy in Syria that has brought terrorism within Turkish borders".
The carnage on the Turkish soil has enraged the Kurds of Turkey.
The Kurds are angry because in June 5, two days before the parliamentary elections, four people were killed and 100 others were injured from a bomb blast in the HDP election rally in Diyarbakir, resulting in the cancellation of the speech of the president of the Party Selahattin Demirtas. The HDP supports that the Turkish government does not take the necessary measures against terrorism.
Last month, ISIS had launched attacks with car bombs in Kobani, which had failed to take over after four months of fighting, and now the fear both of the Kurds and the Turkish authorities is that similar attacks might be carried out in Turkey.