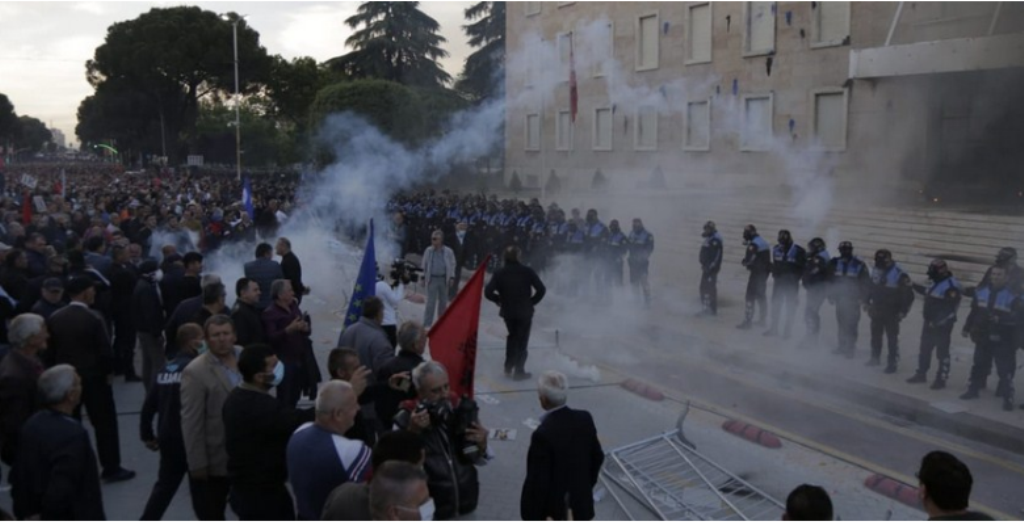 The situation in Albania has become quite tense following Saturday's violent clashes between opposition and riot police. It all started with the demonstration that the opposition had planned to organize in front of the Prime Minister's office at 6.30 pm. In his address in front of the crowd, the leader of the Democratic Party, the main party of the opposition, Lulzim Basha, accused Prime Minister Edi Rama of crimes and corruption. Basha called on the PM to resign as soon as possible.
While the opposition leader was addressing to the crowd, many of them broke off police cordon and threw Molotov bombs towards the Prime Minister's office.
PM Rama reacts
During the time the opposition's demonstration continued, the country's Prime Minister reacted on social media.
"How sad to hear the opposition leader tell the government 'go!' with a hoarse voice, while people around him throw fire bombs on its building!", PM Rama wrote.
Meanwhile, he added that it's the country who is suffering the consequences of these acts and not the government and him.
US embassy condemns violence
As the opposition's protest was going on, the US embassy released a statement where it condemned the violent acts:
"The U.S. Embassy condemns the violence taking place during tonight's protest. The opposition's stated objective to make Albania's democracy stronger runs counter to the violence currently being perpetrated by protesters. Violence is inherently undemocratic, and it must stop. Protest leaders have a responsibility to encourage calm. We call on all parties to show restraint."
Demonstrators march towards parliament
After ending their demonstration in front of the government's building, demonstrators marched towards parliament where there were violent clashes with riot police, who used teargas and water cannons in an attempt to disperse protesters. During these clashes, police beat an opposition senior official, Sait Dollapi, who was also arrested and taken in.
Clashes in front of police headquarters
Following the arrest of the opposition representative, Sait Dollapi, protesters and opposition senior figures headed towards Tirana police department, where Dollapi was being held. There, riot police were once again involved in violent clashes with demonstrators, who requested the release of the opposition representative.
Opposition announces that protests will continue
Following a meeting in the early hours of Sunday, the democrat leader Lulzim Basha declared that opposition's protests will continue on Monday "in response to police violence ordered by Edi Rama", adding "I call on people to join tomorrow's protest in front of Tirana police department at 11 am to request the release of all those who were arrested".  /ibna/