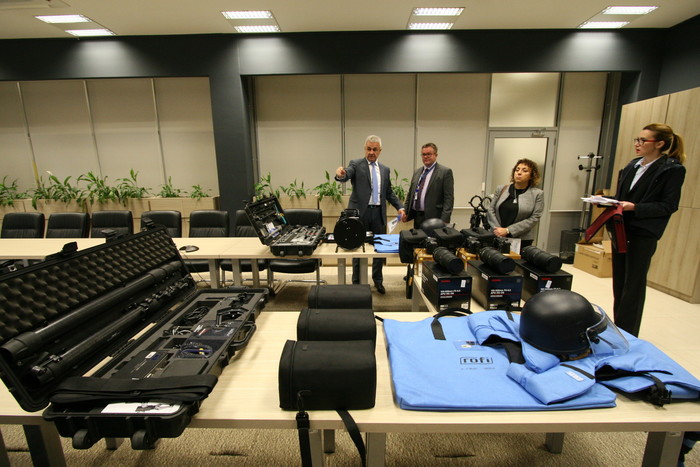 State Investigation and Protection Agency BiH (SIPA) received a significant donation in special equipment, worth about 21 000 euro.
Ms. Sezin Sinanoglu, UN Resident Coordinator and UNDP Resident Representative in BiH, Mr. Richard Wood, Senior Advisor and Head of Rule of Law Section at Delegation of European Union (EUD) to Bosnia and Herzegovina and Mr. Perica Stanić, Director of SIPA took part in the handover ceremony. Specialised equipment was donation through EU Support of SEESAC Disarmament and Arms Control Activities in South East Europe (EUSAC), as part of the project's third component "Improved Marking and Tracing of Small Arms and Light Weapons (SALW)" that aims to improve capacities for marking, tracing, and record-keeping of weapons and thus strengthen the effective rule of law.
"UNDP and EU remain strongly committed to increasing the technical capacities of the law enforcement institutions in BiH and the wider region. This donation will result in strengthening the cooperation and the expertise of the region to fight the trafficking and illegal possession of firearms and at the same time reduce a threat to peace, stability and sustainable development", UNDP Resident Representative, Sezin Sinanoglu, said on the handover ceremony.
EU Delegation representative, Richard Wood, said that the Union recognised weapon as a strategic priority to be addressed by all EU actors and as such, the fight against the proliferation, smuggling, and illicit trade of firearms has taken precedence for all of the EU member states. He added that the new equipment will improve the performance of the BiH law enforcement authorities and significantly aid non-proliferation of firearms.
SIPA Director, Perica Stanic, expressed his gratitude for this valuable and important equipment for this Agency.
"This equipment is strengthening SIPA's capacities and contributing to improvement of criminal investigations on illegal trade of firearms and military equipment. The technically strengthened SIPA will contribute to stronger fight against terrorism and create more secure environment for citizens of Bosnia and Herzegovina, countries of the region and the European Union members", Stanic emphasized.
SEESAC organization announced in this occasion that the history of large scale accumulation of small arms and light weapons and ammunition stockpiles in South East Europe, has made the countries in the region a particular concern as well as an important challenge in the EU Strategy to combat illicit accumulation and trafficking of SALW and their ammunition./IBNA
Photo: SEESAC