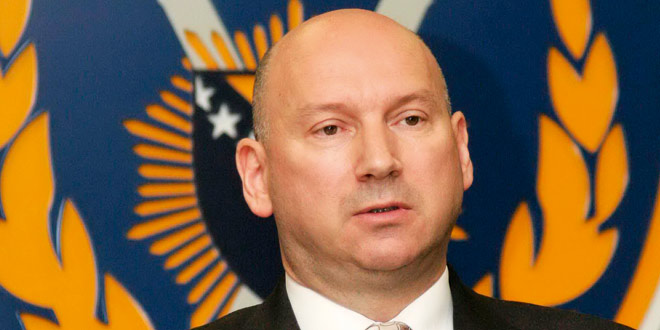 Sarajevo, August 5, 2015/ Independent Balkan News Agency
By Mladen Dragojlovic
Independent Committee in BiH Parliament decided on Tuesday afternoon to remove Goran Zubac (photo) from the position of director of State Investigation and Protection Agency (SIPA), because the BiH Appeal court confirmed the sentence of one year with probation for, the now former, director of Agency.
It was an unanimous decision of the Independent Committee, but the session was held in an unusual way to say the least. This Committee has nine members and the head of the Committee is Ziko Krunic. He confirmed to media that just four of the nine members were present on the session and that the others were contacted by phone and confirmed their opinion for removal. But, there is a problem. This institution, in its Statute, doesn't provide for the possibility of a "phone session". Despite this problem, the Committee sent the decision to BiH Council of Ministers, which confirmed it on Wednesday afternoon on a special session.
The Council of Ministers demands from an Independent Committee to immediately begin the procedure of appointment of new director of SIPA. The list of candidates should be sent to the ministry of security, in order to finish the appointment of the new director in next 60 days, announced the Council after the session.
In accordance with the Law, the duty of the director until the appointment, will take Zubac's deputy, Djuro Knezevic.
Zubac's dismission came as a consequence of the Appeal court's decision not to accept his appeal on the court decision from March this year, when Zubac was sentenced on one year probation sentence which will take effect if he commit the same crime within a two-year period. He was found guilty for the criminal act of negligent performance of duty during the demonstrations in February 2014 in Sarajevo. On that day several directors of other police agencies in BiH demanded from Zubac to send a SIPA Special Force to protect the BiH Presidency building in the city center. Demonstrators set the building on fire and part of it was burned. The damage was estimated to more than 300,000 BAM (150,000 Euro).