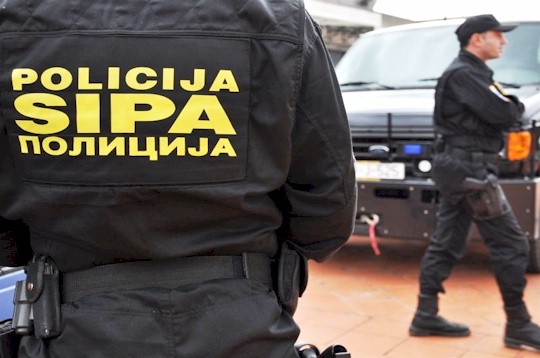 By Mladen Dragojlovic – Banja Luka
BiH State investigation and protection agency (SIPA) police officers arrested on Wednesday morning seven out of the nine members of the group suspected of frauds and money laundering worth more than EUR 5 million.
As it is announced from BiH Prosecution office, which gave the order for the operation called "Gibraltar", an arrest warrant was issued for manager of marketing agency SV RSA Neven Kulenovic, Belma Kulenovic, Sanjin Kulenovic, editor in chief and marketing manager on PINK BiH TV station, lejla Torlak, manager on Mreza Plus TV network, Darko Aleksic, employee in Agency MITA, Ejub Kucak, manager of "Fabrika" company, Senad Zaimovic and high ranked managers in "Eronet" telecommunication company Stipe Prlic and Zoran Bakula.
Two of them, Kucuk and Zaimovic, on Wednesday were in Croatia and Austria, but when their relatives called them and said that police is looking for them, delayed all obligations and promised to get straight back to BiH. Zaimovic said to the media that he will surrender but that he doesn't know why police is looking for him.
"I never had any business with "Eronet" or the persons from the list", said Zaimovic.
Police operation "Gibraltar" begun early in the morning and SIPA police officers entered 16 apartments and houses in Banja Luka, Mostar, Sarajevo, Posusje and Grude. They searched these facilities in an attempt to find evidence about the criminal actions of this group.
SIPA portparol, Kristina Jozic, said on the press conference in Sarajevo that this group is suspected for several criminal acts.
"EUR 5 million was deployed on accounts of offshore companies abroad, mostly on Gibraltar. Part of the money was still on these accounts and part was transferred on private accounts of suspected persons who use it for the purchase of expensive properties abroad", said Jozic.
State prosecutor in this case, Dragica Glusac, said that prosecution office have strong evidence against this group.
"The written evidence are strongest and most reliable. Documents in this case are the best material we have, said Glusac to media and added that "Gibraltar" is the biggest police operation this year", with serious criminal acts and a lot of money involved.
"Gibraltar" operation was performed in cooperation with police agencies in Austria, Slovenia, Croatia and Serbia. Unofficially, the operation was initiated by Interpol, which suggests that same persons appears as the owners of property in several countries.