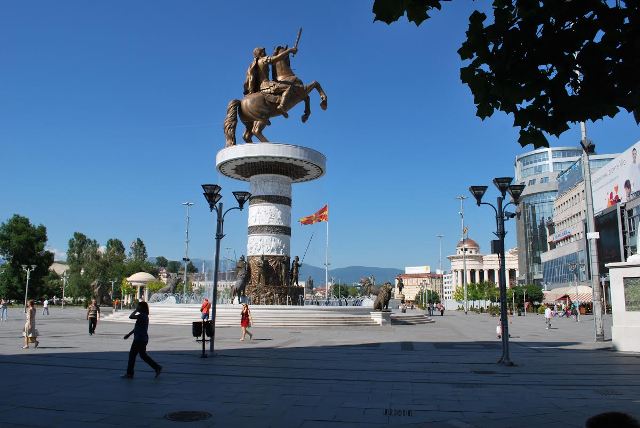 Skopje, 22 October 2015/Independent Balkan News Agency
By Naser Pajaziti
In Skopje, political parties are giving no signs in order to overcome the current political crisis. This week's talks yielded no results, in spite of the direct involvement of EU Enlargement Commissioner, Johannes Hahn, who left Skopje disappointed.
This situation has caused mounting concerns that the country is risking the process of European integration, as the progress report is expected to be published this week or at the beginning of next week. Party in power, VMRO-DPMNE doesn't issue any details as to whether there will be compromise, but everything will be revealed upon the return of PM Nikola Gruevski from Madrid, where he's participating in the European People's Party congress.
Experts of political developments in the country say that the international community alone can have an impact in the finalization of the agreement which will bring the country out of the political crisis.
"There will be another attempt by the international community in order to achieve something", says political analyst, Mersel Bilali.
According to him, the international community has issued limited deadlines to strike a deal, otherwise, the country may jeopardize its Euro Atlantic agenda.
The MP and head of the Democratic League Party, Pavle Trajanov, who left the governing coalition several months ago, declared that the international community is expected to issue strong reactions and according to him, the June 2 agreement may also fail. "If rumors that the two parties in power, VMRO-DPMNE and BDI are trying to delay this agreement as soon as possible, are proven right, then the situation in the country will deteriorate. What's urgent for the moment is to handle the proposals for the creation of an interim government and head to fresh elections", Trajanov declared.
Deputy Prime Minister and representative of BDI in the government, Musa Xhaferi, says that there are still chances to strike a deal between the four large parties.
"There are still chances for talks to continue and to insist on the implementation of the agreement. I believe that everyone will find the strength not to make steps backwards, given the strong support by the international community in Washington and Brussels", Xhaferri declared.
EU envoy in the political negotiations in Skopje, Peter Van Hoyte, called on political parties to show responsibility and finalize all pending issues.
Once the pending issues of the agreement are completed, at the end of December, Prime Minister Nikola Gruevski is expected to resign and another government will be formed in order to hold fresh elections on 24 April 2016. /ibna/