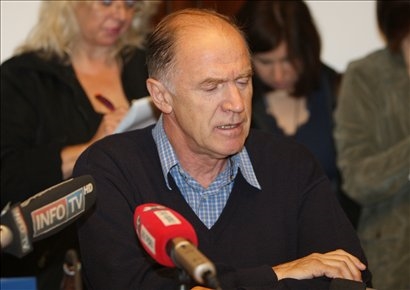 Review Hari Stefanatos
It seems unlikely that the new social deal that was proposed by the EU aimed at tackling the financial crisis will not be signed within 2014, despite negotiations having started months ago. The main reason is the suspension of the talks due to the dissolution of the coalition government, following Prime Minister's Alenka Bratušek resignation in May.
Neither the representatives of workers, employers nor the government sitting on the Social and Economic Council, Slovenia's main industrial relations forum, believe that a new document could be signed by the end of 2014.
In fact, the Outgoing Labour, Family, Social Affairs and Equal Opportunities Minister Anja Kopač Mrak doubts whether the European Commission has the jurisdiction to propose the signing of a new social deal, a view shared by the ZSSS trade union association head Dušan Semolič (photo) and Branimir Štrukelj, the head of Public Sector Trade Union Confederation (KSJS).
Employers' Association secretary general Igor Antauer expressed his concern that waiting too long to sign the deal would mean the talks would be limited by a new coalition agreement, expressing his disagreement to the view of the Chamber of Commerce and Industry (GZS), which proposes the suspension of talks until after the July 13 national elections.
Despite the fact that talks have been going on for several months there are notable disagreements, namely in regard to the employers request for a new labour legislation reform that will give more flexibility to the market, in addition to cut off in the public sector, with the trade unions unwilling to give in to any additional savings measures in the public sector, not to mention their complete opposition to a new labour legislation.
(Source: Sloveniatimes)