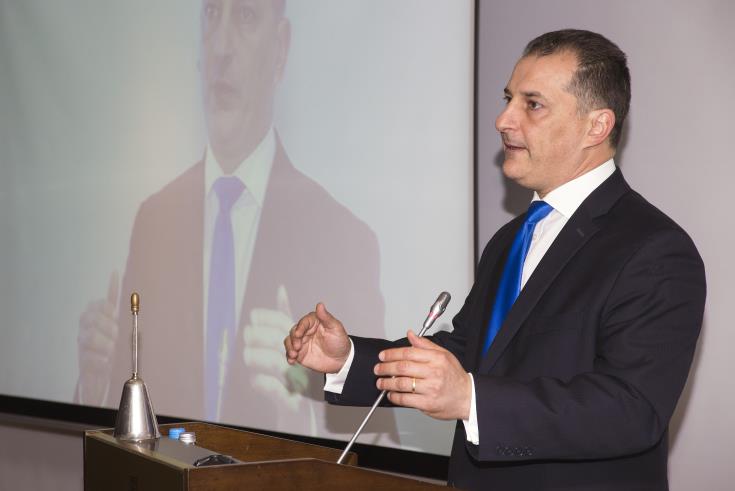 Very important development says the competent minister
By Michalis Michael
Not only is Nicosia not backing down, neither are the companies involved in their work in the Cyprus EEZ. Instead they are moving forward. It is no coincidence that Energy Minister Giorgos Lakotroupis has described as a very important development for the energy program of the Republic of Cyprus the signing today in Nicosia of the Research and Proportional Distribution Contracts relating to the licensing of plot 7 of Cyprus' EEZ to the consortium of Total and Eni, as well as the concession to Total of a portion of Eni's rights in plots 2, 3, 8 and 9.
The intention, Lakotroupis explained, is that in the plots licensed by ENI and TOTAL, up to six drillings are to be carried out, with up to nine drillings expected to take place within the next two years.
Asked when the new round of exploratory drillings will begin, the Energy Minister said this is something that is being discussed with the companies right now. He further pointed out that the current development strengthens the EEZ of the Republic of Cyprus, technically, economically and geopolitically.
On behalf of the Republic of Cyprus, the contracts were signed by Lakkotrypis during a ceremony at the Ministry of Energy with representatives of the licensed consortia, in the presence of the Minister of Finance, Harry Georgiades, and the Ambassadors of France and Italy to Cyprus.
The newly signed agreement include:
Modified Research and Proportional Production Allocation Contracts for Cyprus' EEZ plots 2, 3 and 9, in partnership with Eni, Total and KOGAS Cyprus Limited (KOGAS), under which Total is granted part of the rights possessed by Eni.
Contract for the Exploration and Proportional Distribution of Production and Hydrocarbon Research License for plot 7 of Cyprus' EEZ, with the consortium of Total (manager, 50%) and Eni (50%).
Modified Exploration and Proportional Production Allocation Agreement for Cyprus' EEZ plot 8, through a consortium of Eni (manager) and Total, under which Eni transfers 40% of its rights to Total./ibna