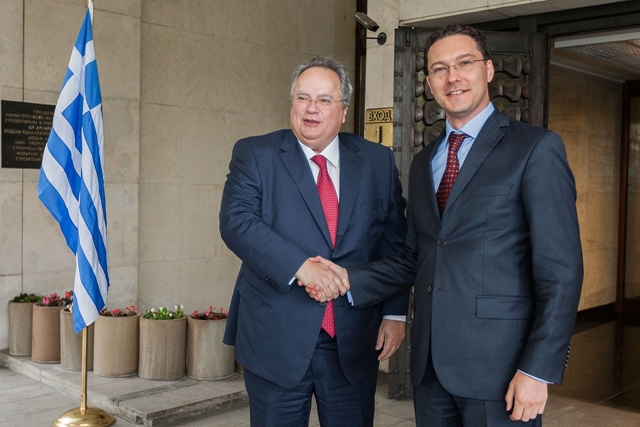 Sofia, June 19, 2015/ Independent Balkan News Agency
By Clive Leviev-Sawyer of The Sofia Globe
Greek foreign minister Nikos Kotzias has given his personal undertaking that the signing of the final investment agreement on the Greece-Bulgaria gas interconnector, that had been scheduled for June 12, will go ahead.
"You can be sure that it will happen, and I will take care of it personally," Kotzias said at a news conference after talks with his Bulgarian counterpart Daniel Mitov.
"It is our government's decision. It is a project that ensures our energy security, and it is part of the European Union's new energy strategy," the Greek foreign minister said.
For Bulgaria the idea for implementing a vertical gas corridor contains the most serious potential for the energy security of South Eastern Europe, and also of the entire EU, Mitov said after the June 18 talks with Kotzias.
Bulgaria firmly supports all the initiatives aimed at strengthening the energy security of Southeast Europe, as well as of the EU, while the coming initiatives of all the countries in the wider region aimed at confronting common challenges in the energy sector will ensure fast and sustainable results, Mitov said.
"This is why our country is interested in and is participating in the implementation of the EU's strategic initiatives for the construction of the necessary infrastructure and for diversification of the EU's energy suppliers," the Bulgarian foreign minister said.
"These include the southern gas corridor and the north-south interconnectors, the initiative for a vertical gas corridor, which we discussed today, access to LNG, as well as to the reverse-flow pipelines in Eastern and Central Europe," he said.
"We must say that energy diversification and the energy union of the EU start here, from the gas interconnector pipeline between Bulgaria and Greece. This is a main priority for us, and we expect it to remain and be maintained as a main priority within the framework of the EU," Mitov said.
Kotzias said that the Greece-Bulgaria-Romania vertical pipeline, like all the major development infrastructure projects in the countries and in the Balkans, were a "stabilising index" in the region, as – he said – were the other projects between the two countries that are under discussion: water resources management, mutual support of tourism, trade and investments.
Mitov thanked Kotzias for his categorical response on the issue of the final investment agreement on the Greece-Bulgaria gas interconnector. "The diversification of energy in Europe starts from the Bulgaria-Greek interconnector," Mitov reiterated.