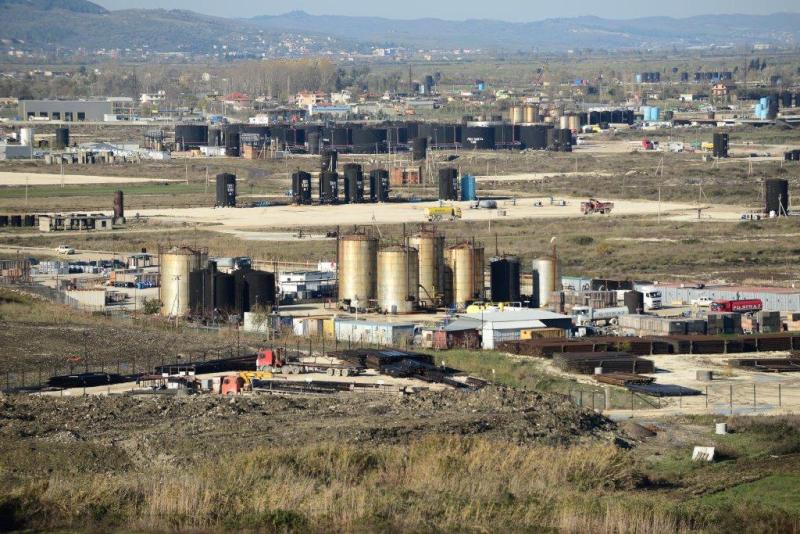 Tirana, March 13, 2015/Independent Balkan News Agency
Bankers Petroleum company has registered a record level of revenues of 583 million USD for 2014, the 2014 report says.
The funds generated from operations amounted to 304 million USD. There's also been a significant growth in the production and sale of oil.
Laura Cela, representative of Bankers Petroleum Albania Ltd, offers the full figures. She notes that average oil production amounted to 20.690 barrels per day (bopd) in 2014, 14% higher than the average production in 2013 of 18.169 bopd.
Meanwhile, based on the figures so far, average oil production for 2015 is lower, around 19.500 bopd.
Oil sales amounted to an average of 20.679 bopd in 2014, an increase of 14% compared to 18.173 bopd in 2013.
Crude oil stock on December 21, 2014 grew to 315.000 barrels as opposed to 311.000 barrels in 2013.
The company has increased capital expenses by 24%. In 2014, they were 291 million USD compared to 234 million USD in 2013.
While in 2013, Bankers had drilled 146 wells, a year later, the number of wells amounted to 160. This marked the drilling of the first multi-lateral well in the Patos-Marinez field and the drilling of the first horizontal well in Kucova.
Bankers has also started to develop the location source in Arrez, Kucova, by taking 59 wells from Albpetrol for exploitation in August 2014. The company has reactivated three wells and has drilled the first horizontal well in this field in 2014.
The financial situation
Revenue in 2014 was $583 million ($77.26/bbl) compared to $566 million ($85.39/bbl) in 2013.  Field price realization represented 78% of the Brent oil benchmark price ($98.95/bbl) as compared to 79% of the Brent price ($108.66/bbl) in 2013.   The reduction as a percentage of Brent compared to the previous year was mainly due to the commencement of domestic sales during 2014.
Royalties to the Albanian Government and related entities were $86 million (15% of revenue) during 2014 compared to $94 million (17% of revenue) for 2013.
During 2014, adjusted funds generated from operations were $304 million ($1.17 per share), a 9% increase compared to $280 million ($1.10 per share) for 2013.
The Company continues to maintain a strong financial position at December 31, 2014 with cash and restricted cash of $73 million and working capital of $201 million.  At December 31, 2014, the Company had drawn $104 million of its $224 million approved credit facilities.  At December 31, 2013, cash and restricted cash was $32 million and working capital was $134 million.
In August 2014, Bankers commenced delivery of crude oil to the domestic refinery, which is now under new ownership and management.  Bankers agreed to sell oil to an affiliate of this domestic refinery on a monthly basis until December 31, 2014 at 73% of Dated Brent (FOB Vlore equivalent) plus $40/tonne or approximately $6/bbl recovery against an outstanding accounts receivable balance.
In April 2014, the Company paid a $3 million premium to enter into financial commodity contracts representing 6,000 bopd at a floor price of $80/bbl of Dated Brent for 2015.  At December 31, 2014, the fair value of these contracts was $44 million.
Bankers and the Government of Albania worked together to reach an agreement on mitigation of the 2014 fiscal changes.  The terms of the agreement were approved by Albpetrol and AKBN, and were ratified by the Council of Ministers on November 2, 2014.
The agreement is structured to allow excise and any applicable carbon and circulation taxes to be deducted from revenue and eligible for inclusion in the cost recovery pool for the Patos-Marinza concession to determine the Company's taxable position.
"This mechanism enables the near term impact on cash flow to be fully offset through a deferred and reduced profit tax burden which keeps the net asset value of the project whole and the economics of future investment consistent with the pre-2013 fiscal regime", – Bankers says.
The Company's reduced capital program in 2015 will be $153 million, funded from projected cash flow (based on an average $50/bbl Brent oil price) and existing cash resources. /ibna/