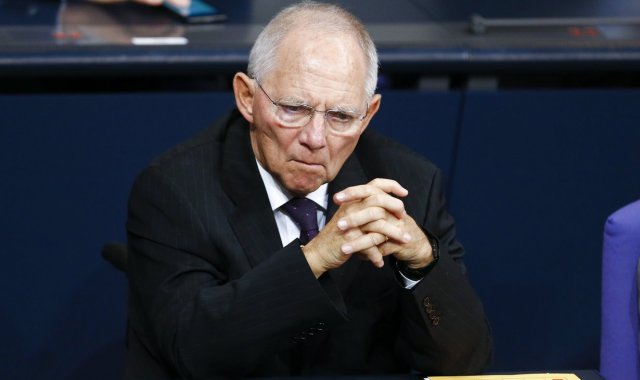 Negotiations over the second review of the Greek adjustment program as well as a pending report by the EU Commission's Structural Reform Support Service (SRSS) were on the agenda of a Eurogroup meeting on Monday.
The Greek government has recommenced difficult negotiations with creditors over labor relations and other reforms with pressure mounting on Athens from a reported 1 billion euro gap in the 2017 budget that creditors want bridged and dozens of prior actions to be implemented.
Eurozone finance ministers assessed the situation regarding the second review and were briefed on the technical assistance provided to Greece by the European Commission to modernize the country's public administration, achieve sustainable public finances and boost competitiveness and growth.
In doorstep comments ahead of the Eurogroup meeting that was attended by Greek Finance Minister Euclid Tsakalotos and Alternate Finance Minister Giorgos Chouliarakis, German Finance Minister Wolfgang Schaeuble doused Greek hopes of debt relief negotiations commencing soon.
Schaeuble told reporters that there is no point of discussing measures to address Greece's sovereign debt and the issue could be revisited at the end of the current bailout program in 2018.
"We said everything in May. We would, after the first program review, look at the short-term measures that the ESM could do," the German Fin Min stressed.
Eurogroup chief, Dutch Finance Minister Jeroen Dijsselbloem, was on the same wave length, point out that it was "impossible to determine" what debt alleviation measures were needed before more information was available about the state of economic growth in Greece, government reforms, inflation, and budgetary progress.
Meanwhile, Valdis Dombrovskis, the vice president of the European Commission said Athens was "broadly on track" to meet its budget targets this year, including a 1.75 percent primary surplus target.
Greek Prime Minister Alexis Tsipras appointed officials with a pro-European, pro-reform profile in a cabinet reshuffle last week, hoping for a swift conclusion of the bailout program's second review and the commencement of debt relief negotiations.
According to analysts, the profile of the new government showed that Tsipras' focus is to complete the second review of the bailout program, implement reforms and pursue growth. However, Athens sees debt relief as key to an economic turnaround.
Dijsselbloem said euro zone ministers would return to the debt discussion at their next meeting on December 5, when short-term relief is expected to be discussed./IBNA