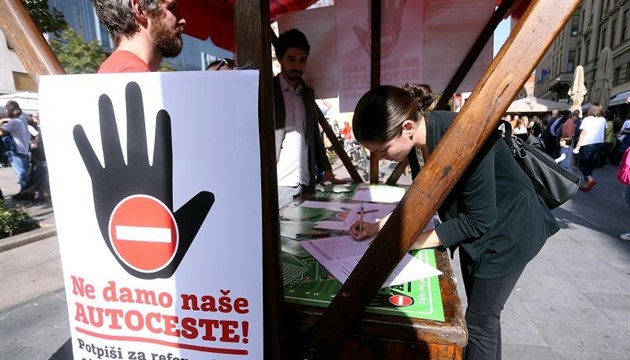 By Marija Avramovic – Zagreb
The instigators of the referendum against the monetisation of highways announced today at a press conference that in four days they have collected 160 thousand signatures.
According to the Ministry of Public Administration, about 450 thousand signatures are required for a referendum on the monetization and giving highways under concession.
Members of the initiative Teodor Celakoski and Mijat Stanic expressed their satisfaction with the pace of collecting signatures, which, they say, showed that citizens do not trust the Government and will not allow themselves be intimidated with threats of losing their pensions, salaries, as well as the non implementation of the Peljesac bridge project.
They pointed that they would not give up and that with the number of signatures collected they wanted to show to the government what the real situation down on the "ground" is.
The ultimate aim of the instigators of the referendum is to ban the current, as well as any other government, from putting the highways under concession.
They do not fear that they will not have enough signatures to call a referendum since they're increasing the pace and open new spots for the collection of signatures throughout Croatia, and at the discretion of the Ministry signatures can also be collected amongst the Croats in diaspora.
Announcements of the Government that without this concession there will be no money for pensions and salaries are assessed by the initiative as an attempt to mislead people.
Stanic said that the debt of the Croatian Motorways (HAC) could be solved with bonds or debt restructuring.
The initiative 'We will not give up our highways' was recently supported by the Croatian democratic union (HDZ) president Tomislav Karamarko with his signature.
The prefect from the ruling Social democratic party (SDP) Zlatko Komadina openly opposed the monetisation,  and certain discrepancies in opinions has emerged in the Government itself.
"If the majority vote is against it, it's something that should be respected", deputy Prime Minister Vesna Pusic said yesterday, concerning the question of highway concessions.
State President Ivo Josipovic did not want to declare whether he was for or against the monetisation of highways, saying that the process was not sufficiently enough communicated to him and therefore he needed, as well as the citizens, more information on the effects of monetisation.