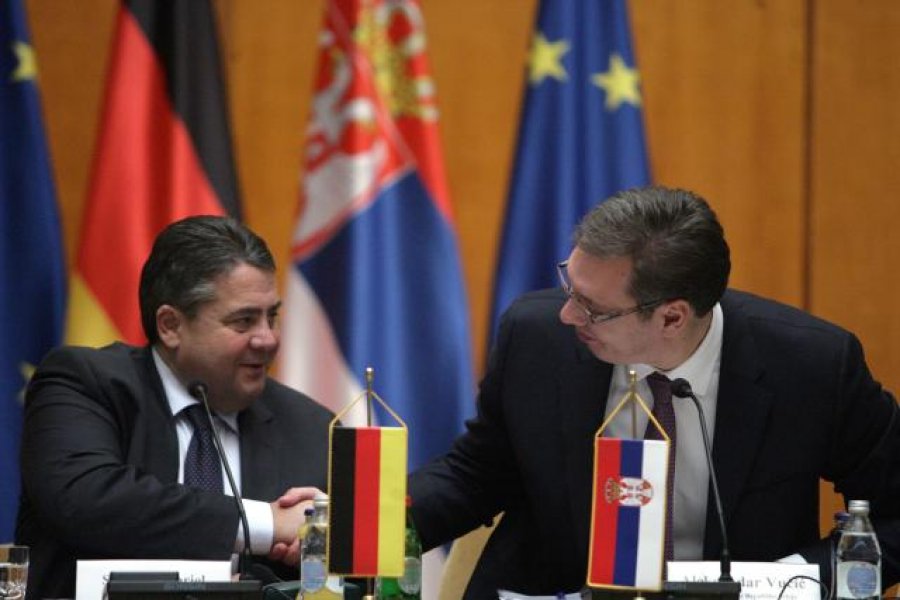 By Milos Mitrovic – Belgrade
Serbia is not begging for alms from the Germany, we ask Germany to help us to develop our country and we want to learn many things from Germany, Prime Minister Aleksandar Vucic said after meeting German Vice-Chancellor, Sigmar Gabriel today in Belgrade. Gabriel said that a number of German companies want to invest in Serbia and considering Belgrade's good relations with Russia he stated that yes decision for EU doesn't mean no to Russia.
At the media conference Vucic thanked Gabriel and German companies which are interested to invest in Serbia, Serbian national television (RTS) reported. Vucic specified that 40 German firms have expressed their interest for Serbia adding that Belgrade has "a task" to provide better climate for investing.
PM recalled that Serbian parliament has enacted certain reform laws stressing the importance of further improvements that would include public administration, "and more responsibility and seriousness in talks with investors".
According to Vucic German delegation headed by Gabriel gave both concrete suggestions for improving business climate in Serbia and concrete remarks. Nevertheless, premier underlined that German delegation has "noticed Serbia's diligence".
Vucic suggested that Serbia would be developed country if its citizens abide the laws and work hard. PM and Gabriel have opened the meeting of Serbian-German Business Council.
PM reminded that Germany is the most important political and economic partner of Serbia stressing that German Chancellor Angela Merkel has helped Serbia "at least three times when we had different serious incidents". Vucic did not specify the "incidents".
"She (Merkel) has helped us a lot in political sense, and Germany's help in economy is significant", PM added. But some Serbian media report that Berlin is still reluctant considering the opening of certain chapters in Serbia-EU accession negotiations.
Sigmar Gabriel underlined the importance of the chapters linked with the rule of law. At the same time, Berlin insists on the full implementation of 2013 Brussels agreement on the normalization of the relations between Belgrade and Pristina. In that regard German Parliament has important role in assessing the advance of Serbian government.
"Serbia needs Europe, but Europe also needs Serbia", Sigmar Gabriel said adding that long term peace and welfare are possible only if Europe is united.
Good relations with Russia, EU remain priority
Serbia is not ashamed because having good relations with Russian Federation Vucic said answering to Spiegel journalist. He added, however, that EU membership remains Serbia's priority.  When asked what he thinks on Merkel and Russian President Vladimir Putin, premier said "it's not essential what PM of a small country think on such important figures".
"We have good relations and concrete cooperation with Putin", Vucic said. But he emphasized that Serbia makes its decisions independently. "I am convinced that we will always be able to preserve our independence and stability and we don't see enemies around".
Photo: Tanjug