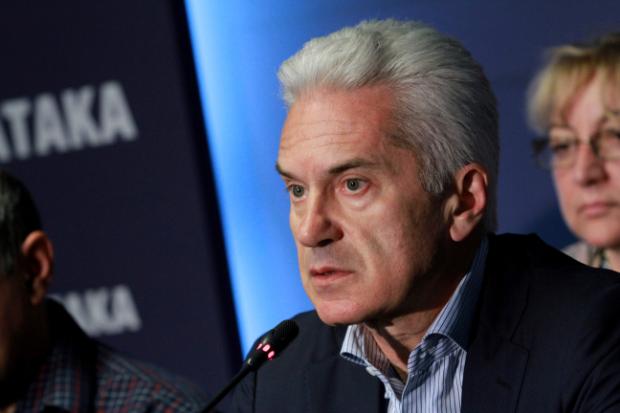 By Clive Leviev – Sawyer of The Sofia Globe
On a day commemorating Bulgarian national hero Hristo Botev, who died during the struggle for liberation from Ottoman rule, the somewhat more diminutive in stature Volen Siderov paraded – uninvited – astride a jet-black horse.
Apart from the fact that Siderov is beardless and rather short, it was a scene reminiscent of his fellow ultra-nationalist, the late Afrikaner Resistance Movement leader Eugene Terreblanche. That late Terreblanche, like Siderov a chauvinistic buffoon, famously fell off his horse (literally; political decline, deepening ridicule and an undignified death followed later); amid the heightened emotions of Bulgaria's current political crisis, which Siderov seems determined to heighten to a dangerous degree, it must be asked when the inevitable moment will come that Siderov falls off his.
Siderov made Bulgaria's current widely-rejected government possible. He provided the vote needed for the quorum that put the Bulgarian Socialist Party and Movement for Rights and Freedoms cabinet ministers and, later, regional governors in power.
Since then, Siderov has been marching to and fro, emitting ever-more hysterical messages, caught up in confrontations and performing a bizarre political act of theatre in which the man who holds sway over the socialist government also distances himself from it, who portrays his minority party as a truer representative of Bulgaria than the many thousands who come to the streets daily to reject him and the rulers with which he is associated.
Up against these protests – which for the past 18 days have been consistently peaceful, creative, well-supported and determined to see the ouster of an administration that the protesters see as discredited from the outset – Siderov has responded with threats, harangues and increasingly reckless epithets.
Lampooned in numerous caricatures and slogans, even his name twisted in ridicule – protesters refer to him as "Bolen" (meaning, "sick") instead of his given first name, Siderov also endured bitter laughter when an investigation by public broadcaster Bulgarian National Television established that the youths who had come to "defend" his party headquarters in Sofia from the protesters had all had come because they had been paid cash and pizza.
None of this gels with Siderov's own unique brand of Bulgarian "patriotism".
He has condemned the public protesters, many of whom represent a relatively well-off and educated middle class fed up with Bulgaria's political establishment, as "hooligans", "drug addicts", "whores"…you get the idea.
"Whores" is a word he has routinely begun using about the media, coming across like a right-wing American fundamentalist conspiracy theorist denouncing the "MSM" – the mainstream media.
Siderov, in a stunt not unlike one of a few years ago when he led a phalanx into a newspaper's office to complain about a story, invaded the Sofia headquarters of Bulgarian National Television and imposed himself on its director-general, demanding a change in its coverage. The unscheduled encounter led to reports of Siderov's spewings and the said head of BNT making it clear that the two had different perspectives on the professional conduct of journalism.
After, on the morning of July 1, a group of protesters reportedly delayed the motorcade in which Plamen Oresharski, who was placed in May in the prime minister's seat in the BSP government, Siderov told a news conference that "we are witnessing some aggression, a terror, exerted on hundreds of Bulgarian citizens in Sofia and in the country during the protests" and he called for amendments to the law to define blocking road and rail transport as "terrorism", carrying a penalty of three years in jail.
Alleging that Bulgaria's Interior Ministry is not doing its job has become a favourite theme for Siderov, who clearly expects a somewhat more forceful approach by police towards peaceful protesters.
He earlier demanded that the identity documents of those taking part in protests be checked, after which the Interior Ministry began announcing when it had done so and what the results had been. However, the incidents where police have held people have involved allegedly paid agents provocateur seeking to provoke confrontation – and more than once there has been effective co-operation by protesters pointing out to police those who put themselves in their midst to try to stoke trouble.
Siderov, not unlike the BSP, sees a so-called "energy mafia" as behind the protests (the BSP also sees former ruling party GERB as the architect of the protests) – and Siderov adds to the number of this "mafia" three people from the GERB government: former finance minister Simeon Dyankov, former foreign minister Nickolay Mladenov and former energy minister Traicho Traikov. Also "strongly entangled" in this, in the particular vision of Siderov, is President Rossen Plevneliev and Plevneliev's wife.
On top of all this, and along with his reported threats that the Interior Ministry should act, or Ataka would take the law into its own hands, and his repeated "warning" that Bulgaria is heading rapidly for civil war, Siderov is now the subject of a number of petitions for the Prosecutor-General to take steps to request Parliament to remove the immunity that Siderov has as an MP against prosecution.
There was a considerable furore when Siderov was pictured walking into Parliament with a firearm strapped to his hip. It turned out that the Bulgarian Parliament does not subject its members to metal detectors.
By the end of June, more than 20 000 people had signed petitions for the removal of Siderov's immunity, citing his aggressive and provocative speech and behaviour. Even a former BSP MP, albeit one from a faction rival to the current leadership, asked publicly why the Prosecutor-General seemed only to be sitting back and watching Siderov's antics without reacting.
Figuratively, the ultra-nationalist Ataka leader still seems to be on his horse, whipping it into an ever-more hysterical froth. How long he will stay on is a matter of concern for many Bulgarians.