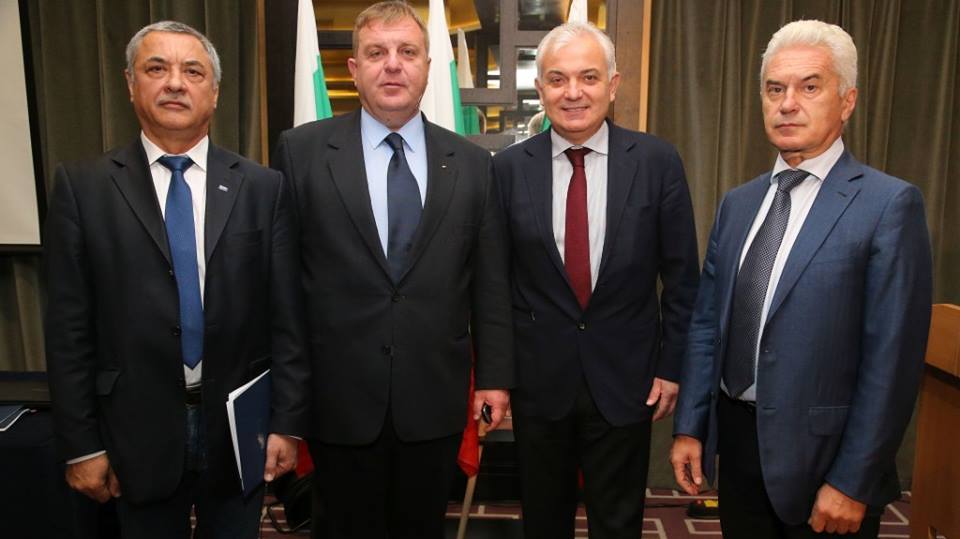 Bulgaria's far-right Ataka party leader Volen Siderov said on December 4 that the group of nationalist formations that had a joint ticket in the presidential elections would again stand together in the country's early parliamentary elections in 2017.
This was a further confirmation of what the parties of the "United Patriots" said at an election night news conference in November, after their presidential candidate placed third with 14.97 per cent of the vote.
In all, a total of 573 016 Bulgarians voted for that ticket, headed by Patriotic Front co-leader and one of the current National Assembly's deputy speakers, Krassimir Karakachanov, leader of the nationalist VMRO party.
In Bulgaria's November 2016 presidential elections, VMRO and Valeri Simeonov's National Movement for the Salvation of Bulgaria, and Siderov's Ataka, put aside their past enmities to support the Karakachanov candidacy, in which Ataka's Yavor Notev was the vice-presidential candidate. Extra-parliamentary formations such as the extreme far-right Bulgarian National Union also supported the joint ticket.
Buoyed by the performance, the "United Patriots" vowed to continue co-operation, in Parliament and beyond.
Speaking in a television interview on December 4 with public broadcaster Bulgarian National Television, Siderov said that NMSB, VMRO, Ataka, the National Union and other formations that were not directly part of the coalition but that supported it would go together into the elections.
All together, they would have a better result, Siderov said.
"This bloc is going to the elections, because together we will have more of a result than separately," he said.
Siderov said that the "PF has a history, VMRO has a history, we have shown what we are and from now on it would be difficult to say that we would become something else".
"We think that it is irresponsible now before midwinter to have elections, to put the country into an interregnum, which could be used by international terrorism and whatever else. All of that is clear to people," Siderov said.
Currently, Bulgaria faces a situation in which it is improbable that an elected government would be formed following the November resignation of Boiko Borissov as prime minister.
While the nationalist parties have said that they would be willing to try to put together a government within the context of the current Parliament, it appears that President Rossen Plevneliev will hand the last of three exploratory mandates not to them, but to the centre-right Reformist Bloc group.
Plevneliev told BNT on December 2 that he would not offer an exploratory mandate to the nationalist parliamentary group because this would call into question the European development of Bulgaria.
Siderov said that it was unlikely that a government would be formed, given that the parliamentary group of Borissov's GERB party had said that it would not support one, but he did not rule out versatile options regarding a new government, including one involving GERB and the "patriots".
In a separate interview on December 4, with Nova Televizia, Karakachanov said that if the Reformist Bloc were offered a mandate, "we will talk with them and see what their programme will be".
Commenting on Plevneliev's words in the December 2 BNT interview, Karakachanov said that the President's statement "had nothing to do with what he told me, Volen Siderov and Valeri Simeonov".
Karakachanov was referring to a meeting that he and Simeonov had with Plevneliev on November 23, from which the Patriotic Front leaders emerged saying that they were willing to try to form a government.
Karakachanov said that before the early parliamentary elections, there would be six months of anarchy and an interregnum./IBNA