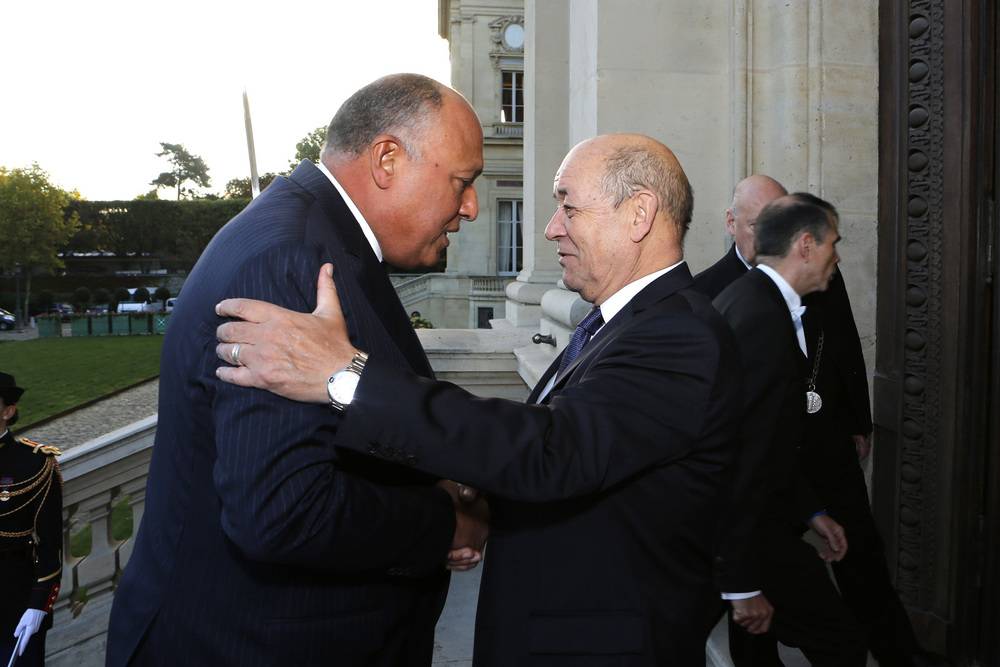 According to Al-Ahram, Egyptian Foreign Minister Sameh Shoukry and French Minister of Europe and Foreign Affairs Jean-Yves Le Drian had a telephone conversation yesterday, during which bilateral relations and developments in the region were discussed.
According to the report, the two sides discussed developments in the Eastern Mediterranean region, which is characterized by unrest and instability, as well as the situation in Libya. The two ministers agreed that it was illegal for the Libyan Prime Minister to sign the Memorandums of Understanding with Turkey on military co-operation and EEZs, as that (this act) goes beyond its powers as defined in the Skhirat Agreement. On the other hand, the two memoranda violate the rules of international law and the Security Council resolutions on the Libyan arms embargo.
The two ministers also agreed that it is important to continue working under the Berlin process in order to achieve a comprehensive political framework for resolving the Libyan crisis and to support the Libyan state institutions and the powers of the House of Representatives, which is the elected legislative Body.
Cooperation between France and Egypt was also discussed in the light of strong relations between the two countries, which are based on solid foundations. The two ministers agreed that it is important to continue consultations, co-ordination and exchange of visits. Le Drian invited his Egyptian counterpart to visit France in the coming weeks in order for consultations and coordination between the two sides to continue, and it was agreed that this visit would take place in January 2020.
In a related report, the same newspaper quotes the Libyan National Army's General Administration yesterday as condemning the signing of the two memorandums between the Government of Tripoli and Turkey.
The Libyan National Army General Administration noted that the Government of National Reconciliation has no right to sign agreements, a fact renders these agreements and memoranda null and void, which have no [legal] effect on the Libyan State. He stressed that this act is a hostile step, which threatens international peace and security, as well as maritime navigation, while directly affecting the interests of the Mediterranean countries and is contrary to international laws and regulations and the principle of good neighborliness.
The Libyan army also points out that Turkey is trying to expand its influence in the region, in order to achieve its aspirations to take control of the most important shipping lines that affect international trade. To this end, the Turkish side is allegedly exploiting the brain death of the Al-Sarraj government and its complete paralysis and collapse against the Libyan forces on the outskirts of the capital, while also exploiting the control of terrorist and criminal militias in Tripoli, who are supported militarily, politically and communicatively by Turkey./ibna