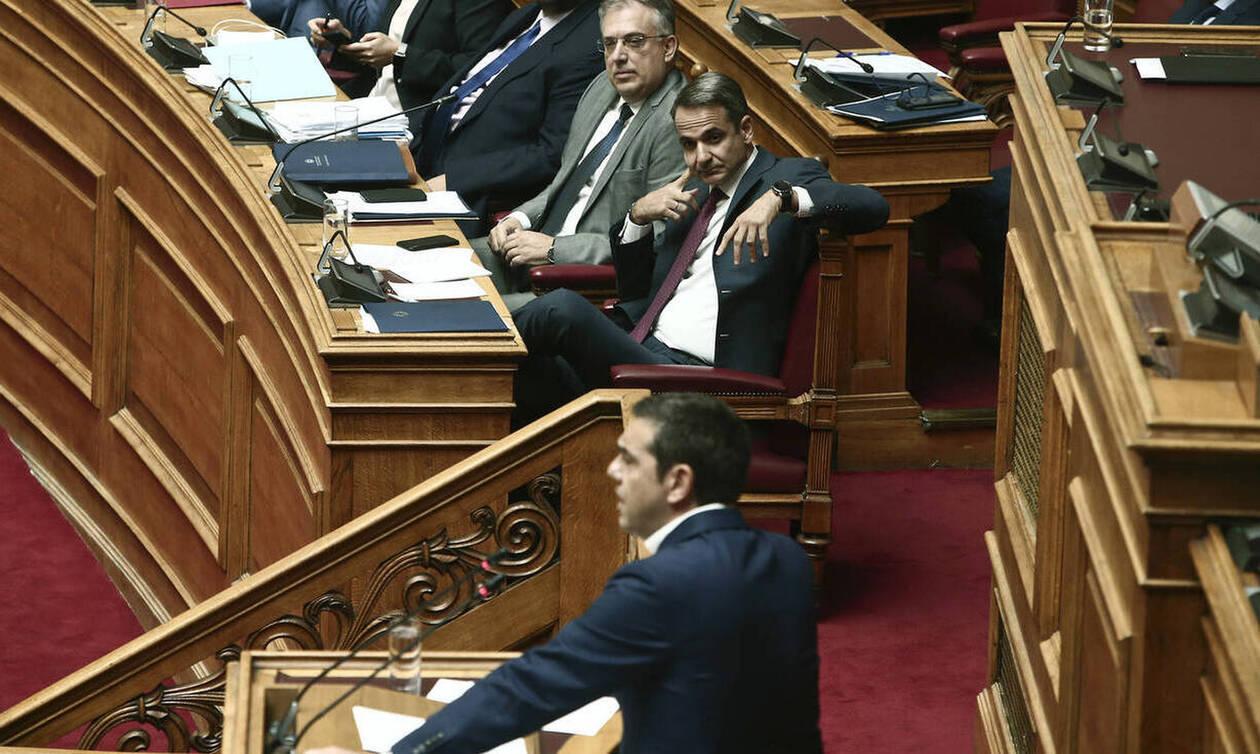 Kyriakos Mitsotakis felt the heat by the main opposition today in Parliament during the debate on the government policy in the labour sector.
Alexis Tsirpas called the Prime Minister a "no-brakes steamroller" accusing him that, through the labour deregulation he has been promoting he was taking the workers back to the days of the second memorandum. He spoke of "a complete setback towards the Memoranda era in terms of the status, standard of living and bargaining power of workers", stressing that "there can be no growth without the worker at the center".
"There cannot be a strong country without strong businesses. But there can be no prosperous businesses without satisfied workers", the Prime Minister said. "Everyone will share in the production of new wealth", he added, stressing that the best social policy in the country was to create many good new jobs, with Al. Tsipras denying his claims and accusing him of being "out of place and out of time".
Presenting the negative effects on employment, the surging unemployment rates, the comeback of arbitrary action by employers, collective redundancies and the "freezing" of control mechanisms, the SYRIZA leader urged the Prime Minister to commit to raising the minimum wage. "If not through our law proposal, commit to enforcing your own pre-electoral commitment".
SYRIZA has tabled a law proposal for a 7.5% increase in 2020 and 7.5% in 2021 with the responsibility then being transferred to the social partners and collective bargaining. New Democracy prior to the elections was declaring an increase in the minimum wage at twice the rate of growth, projected at 4%.
"That turned out to be a lie as well, but at least double it from the 2.7% provided by this year's budget", said Alexis Tsipras, who listed the government's "surgical interventions" in the labour market, at the suggestion of the Association of Greek Industrialists, according SYRIZA.
In fact, Alexis Tsipras extended a hand of friendship to KINAL and Fofi Gennimata, who called for the increase of minimum wage to be decided by the social partners. "Tabling together a law proposal requires that we agree that the threshold of the increase will be the memoranda threshold, that is 751 euros", he noted addressing Fofi Gennimata.
During the debate, former Finance Minister Yianis Varoufakis handed the Speaker a file with the recordings he kept during his time as Minister of Finance from the Eurogroup meetings saved in a USB stick.
He noted that every time he took the floor false accusations were being voiced, adding that with his move to submit the recorded conversations "we will deprive you of the right to lie" about what happened at the Eurogroups "who wanted to humiliate Greece". The Speaker of Parliament returned the file with the USB as unacceptable. /ibna