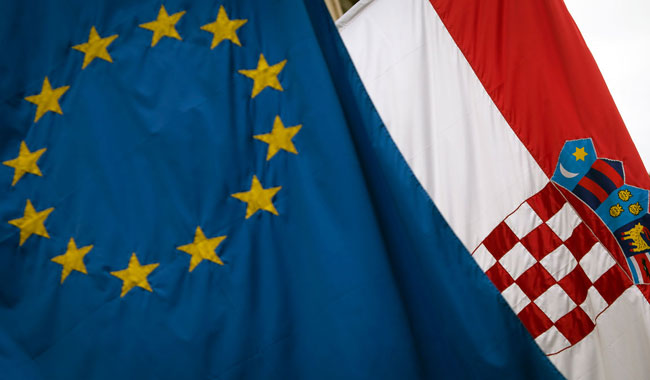 By Natasa Radic – Zagreb
The news on Wednesday came as a shock – German Chancellor Angela Merkel will not attend the EU accession ceremony in Zagreb!
Her arrival was announced as the biggest news just a week ago, but now her spokesman has now said that unfortunately because of the tight schedule it is impossible for the Chancellor to arrive to Zagreb. Instead of her, the state secretary for Europe in the Ministry of Foreign Affairs will attend the ceremony on Sunday, June 30th!
It was the biggest possible blow for Croatian officials. "Germany and Croatia are friends and I am sure she had some other committments she could not avoid", said Health Minister Rajko Ostojic before the Government session on Thursday, while others were not keen to comment the news.
The media did not buy the official explanation. There are two versions of her refusal to come to Zagreb. One is that she is not satisfied with the organisation of the ceremony that basically includes only a joint dinner, a short walk and a few speeches at the main square in Zagreb – this is why in the diplomatic circles the EU entry celebration is known already as "dine and walk". In that case she would not be the only one as off the record, many diplomats complain that Croatia should have used its "5 minutes of fame" better. The pther, politically more realistic option, is that she decided not to come to Zagreb to show a clear political message of what she thinks about Croatian attempts to prevent the extradition of the former intelligence chief Josip Perkovic who is wanted by the German judiciary because of the pending case of the investigation of the murder of Croatian businessman and immigrant Stjepan Djurekovic, killed by the Yugoslav secret service in 1983. Almost simultaneously as Merkel announced that she has other plans on the Sunday evening, the Germans issued a warrant offering a reward for those who will provide the information on Perkovic's whereabouts. He is not difficult to find and Merkel might have seen him in Zagreb if she arrived to Croatia. Perkovic is not hiding, but it is still unknown if he will feel safe from extradition after July 1st.