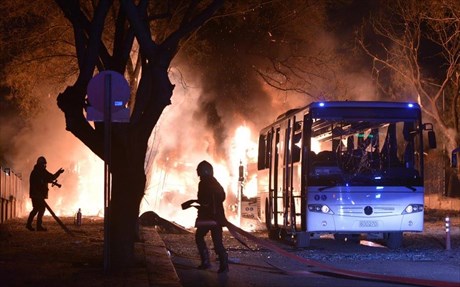 Ankara, February 18, 2016/Independent Balkan News Agency
By Manolis Kostidis
Erdogan: "We retain our right to self defence anywhere" 
The terrorist attack aimed at military personnel in the city center of Ankara has shocked the Turkish capital, with Ahmet Davutoglu canceling the planned trip to Brussels. At least 28 dead and 61 wounded is so far the toll of the attack.
According to the Turkish authorities, the explosion occurred at 6:30 pm when the bus carrying staff of the army stopped at a red light at a distance of about 300 meters from the General Staff of the Armed Forces. The police say the attack was carried out by a car bomb. Eyewitnesses say they heard two explosions. three buses caught fire.
The attack was directed at the Turkish armed forces and occurred a few days after the start of the attacks with mortars, of the Turkish army to the Kurds Syria. No organization has claimed responsibility of the attack.
A few minutes after the terrorist attack, the Broadcasting Council of Turkey banned all television networks and electronic transmission of the news for "security reasons" and obfuscated all Turkish Media.
Some Turkish media had reported earlier that the area where the attack took place is the same when in 2011 an offshoot of the PKK had carried out a car bomb attack and had killed five people.
President Recep Tayyip Erdogan canceled his planned trip to the Azerbaijan and convened an emergency meeting at the presidential palace with relevant ministers and generals. Turkish Prime Minister Ahmet Davutoglu canceled his trip to Brussels where he was to have meetings on tackling the refugee problem.
Erdogan in his written statement said that "such terrorist attacks test our patience and let no one doubt that we can use our right to self-defence anywhere, anytime".