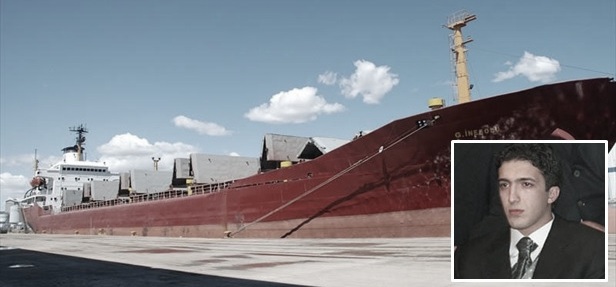 By Manolis Kostidis – Ankara
"The father undermines the relations, but Burak Erdogan continues the trade", turkish newspaper reveals
Political shock has been caused in Turkey from the revelation of the activities of the son of Recep Tayyip Erdogan, Burak, who is a ship-owner and his ships are conducting trade with countries that Turkey has the worst diplomatic relations.
According to the front page article in the turkish newspaper Sözcü the ships of the company of Burak Erdogan are charted and drop anchor in Israel, Syria and Egypt, countries with which Turkey has suspended diplomatic relations or has degraded them.
"Father and son are in a different wavelength. The Prime Minister expresses his hatred against General Sisi in Egypt, but his son's ships are carrying goods to Egypt". According to reports the ship named Cihan, dry cargo carrier, belonging to Burak Erdogan, carried goods from the U.S. to Port Said in Egypt.
The turkish newspaper reveals that ships belonging to the son of the Turkish Prime Minister, have carried food from Russia with final destination the port of Tarsus in Syria, with which the Turkish government has no diplomatic relationship.
Turks recall that after the Mavi Marmara incident, Erdogan had opposed Israel and the bilateral relations had reached a "nadir"'; "Burak's ships, however anchored and continued to trade in the Israeli port of Ashdod", writes Sözcü.
Recep Tayyip Erdogan, who last week announced his candidacy in the presidential elections of August 10, made ​​no statement about the revelations.
The Opposition has accused Erdogan and his son for illegal enrichment by means of the state (through loans from state banks). Burak Erdogan in 2002 did not own any ships, but from the day his father came to power his company has acquired a fleet of eight vessels, which the Turkish premier has referred to as "boats".
In the neighboring country the name of the second son of Erdogan, Bilal, was involved in a scandal that was revealed by the illegal wiretappings of telephone conversations. According to the telephone conversations that were leaked on the internet, the Turkish Prime Minister asked his son to "move" the $10 million that were in Erdogan's residence in Istanbul so as not to be found by the police officers who had already invaded the residences of his ministers in December of 2013. Other conversations with Bilal were also revealed, with Erdogan's son appearing to accept large amounts of money from businessmen, on behalf of his father.
However, Bilal Erdogan testified nearly a month after the revelations and was released following the replacement of the prosecutor, who had ordered the investigation of the sons of government officials, which led to the resignations of four ministers.