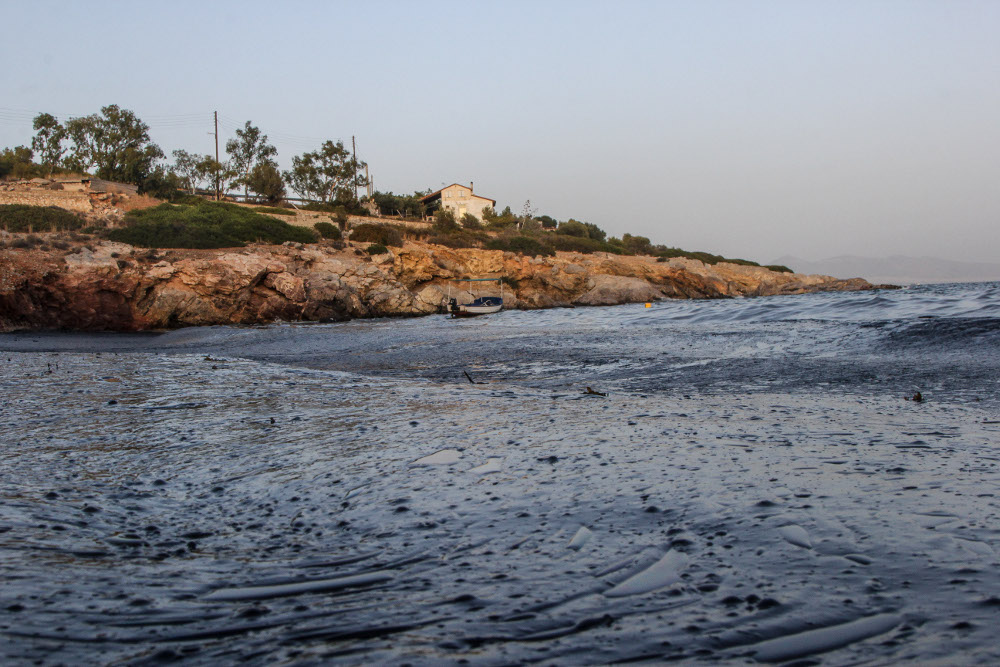 The shipping ministry held on Wednesday an emergency meeting to review the actions taken to clean up the oil spill caused by the sinking of the small tanker "Agia Zoni II" on Sunday, while it was anchored off Salamina. The briefing focused on actions taken to contain sections of the spill in Selinia and Kynosoura on Salamina, as well as the Piraeus suburbs of Freattyda and Piraiki.
The meeting was attended by the ministry general secretaries, the head of the coast guard and senior coast guard officers, while local authorities were represented by Piraeus Deputy Governor Giorgos Gavrilis, who had requested the meeting, Deputy Governor for the Islands Panagiotis Hatziperos, the mayors of Perama and Salamina Giannis Lagoudakis and Isidora Nannou-Papathanasiou, respectively, the deputy mayor of Piraeus Alexandros Argoudelis, Piraeus MPs and representatives of the private companies in charge of the clean-up effort.
On Wednesday, a crew of 60 currently working on the Paraskeva Beach at Votsalakia and in the sea in front of the Hellenic Naval Academy have intensified efforts to contain and clean up the spill. The anti-pollution tanker "Aktea osrv" that has much greater capabilities to clean up petroleum spills will join the crews' efforts later in the day.
According to the companies, the clean up is proceeding at a satisfactory rate and work to empty the tanks of the sunken vessel, which still contains 2,570 tonnes of fuel, will begin within the day. The coast guard has reinforced its presence on the scene, while additional tanker trucks have been sent to Salamina to assist the clean up./IBNA