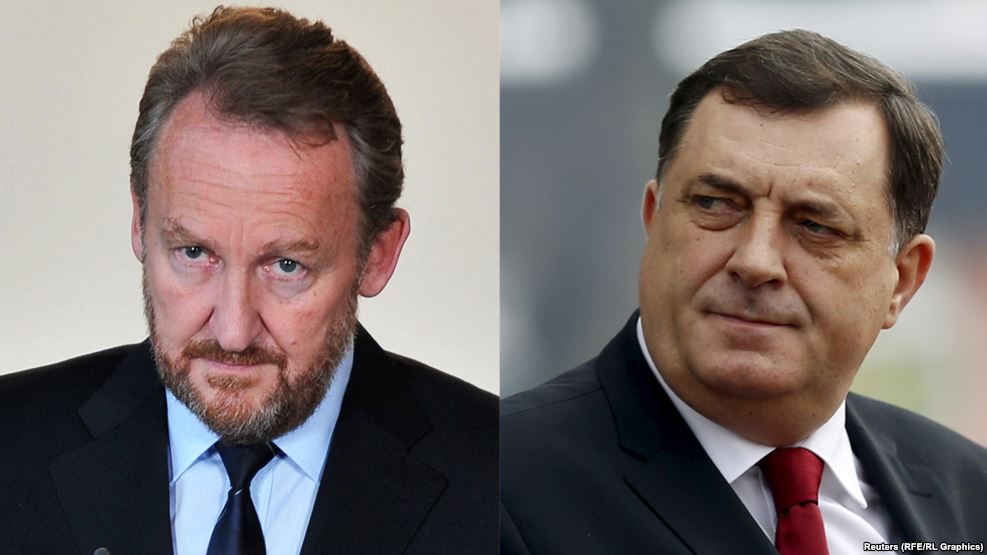 As soon as he returned from his official visit to China, RS president Milorad Dodik, was faced with the warnings from president of the largest Bosniak party, SDA, and actual Chairman of BiH Presidency, Bakir Izetbegovic. Of course, Dodik's answer was very sharp and on the edge of diplomatic language.
Izetbegovic addressed the media in Sarajevo, where he presented the SDA election results. Commenting the High Representative, Valentin Inzko report to UN Security Council, where Dodik and RS were described as main obstacles to progress of BiH, Izetbegovic said that from various reports like this is, it is obvious who is obstructing the BiH path toward EU.
"For Dodik it is better to change himself because somebody will change him", Izetbegovic said.
It did not take long for one of the sharpest reactions in last several years came from Banja Luka. Milorad Dodik said that Izetbegovic poses the biggest threat to the stability of BiH and the region because he is trying in every way possible to fulfill his father's dream of turning Bosnia into an Islamic country.
"Due to such fatal Islamist policy, BiH has no future whatsoever with Bakir Izetbegovic", Dodik said for the RS media.
He said that Izetbegovic, as a friend and inspiration of terrorists, the Wahhabi and Islamists, is the last man on earth who could make threats against anyone or change anyone. Dodik also pointed out that Izetbegovic had the duty, especially after the statements that Fahrudin Radoncic gave a court in Pristina, to offer a thorough explanation to the public, particularly the Serbs, about his role in executing of Serbs and triggering the war in BiH.
"Neither me nor RS is going to be threatened or arranged by anyone, especially not an extremist like Bakir Izetbegovic. The times of foreign interventionism are long gone", Dodik said.
RS president added that Izetbegovic proved his extremist nature with his recent appearance in Brussels, which had not been harmonised with the other members of the BiH Presidency. According to Dodik, Izetbegovic used meetings with EU and NATO officials for repeated, gross political manipulation to the detriment of Serbs and Republika Srpska.
"His appearance in Brussels only proves that he actually speaks in the name of radical Muslims who are ready for fresh conflicts. The claims that Srpska was established on crimes, that the Muslims in BiH were only defending themselves during the war, even though everyone knows his father was the one who dragged all of us into that war with his Islamist ideas, and justifying the 'creeping' creation of the Islamic state in BiH only goes to show that RS has every reason to make itself and its institutions stronger by the day", Dodik stressed.