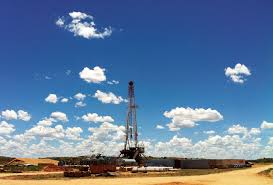 By Daniel Stroe – Bucharest
Several hundred persons, mostly villagers, formed a human chain to prevent the American company Chevron from installing its first prospecting well near the village of Pungesti, in the Vaslui County, in eastern Romania.
Authorities mobilized about 200 gendarmes to cope with the growing number of protesters who also set up tents. Protesters knelt in front of the gendarmes, holding hands and forming a human chain to prevent the company to install the drilling equipment.
Several protesters scuffled with the police after trying to break the security cordon and allow other protesters join after the gendarmes sealed the area. Several demonstrators needed medical assistance.
The villagers, who have started the protest three days ago, warned they would give up whatever it takes to prevent the exploration to start. On the other side, authorities said they would resort to force if necessary. An order in this respect has already been given to the gendarmes by the prefect of Vaslui County, the local media revealed. Chevron has also deployed a consistent group of bodyguards from a private company.
Protesters also asked for the resignation of the commune mayor, accusing him he betrayed the citizens and yielded to party interests. The mayor is a member of the social-democrat party (PSD), the main party of the ruling coalition in Bucharest which supports the shale gas production.
Chevron will install the drilling equipment about a kilometer away from the village of Pungesti and will cover a prospecting area of about 21,000 square meters, drilling about 3,000 meters deep.
Vaslui County has become a catalyst for anti-shale gas protesters after the nearby town of Birlad hosted the largest environmental demonstrations in post-communist Romania, with as many as 8.000 people taking to the streets in a single protest. Locals fear the shale gas production will have irremediable effects on the environment.
Romanians have started showing more interest in environmental issues amid a fierce debate on the gold mining project at Rosia Montana, in Western Carpathians, with large protests being held in Bucharest and other cities in the country. But many say the real challenge for the government will be the shale gas production amid a growing opposition in the country and Europe, even though officials in Bucharest underlined exploration doesn't involve any risks for the environment.
Romania has shale gas reserves of about 1,444 billion cubic meters which, judging by the average annual consumption of 14 billion cubic meters, can ensure the country's gas autonomy for about a 100 years, reveals a report of the US Energy Information Agency (EIA).