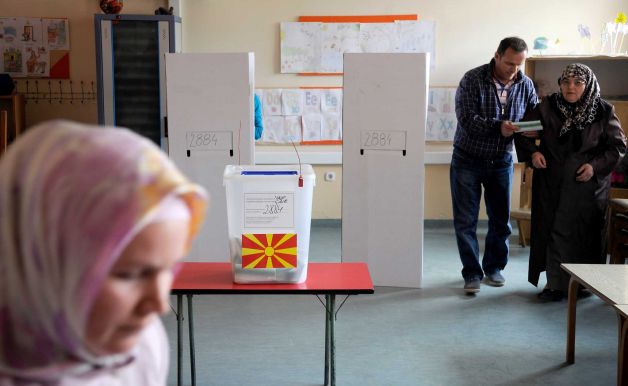 Skopje, April 15, 2014/Independent Balkan News Agency
By Naser Pajaziti
Shadows of suspicion are being raised in Skopje for a possible boycott of the parliamentary elections by the Macedonian opposition. As far as today's electoral agenda is concerned, no meetings have been announced.
Macedonian media published today declarations of opposition parties saying that they do not intend to participate in the April 27 parliamentary elections which are held along with the second round of the presidential elections.
Main newspapers in Skopje say that the boycott is coming not only from the Macedonian opposition, but also from the biggest Albanian opposition party, Democratic Albanian Party (PDSH).
PDSH is seriously considering the possibility of boycotting the April 27 parliamentary elections, due to what it considers to be a great pressure put on Albanians in the presidential elections and the fact that the electoral campaign could not  be held in democratic circumstances in the Albanian political camp.
"We're seriously thinking on boycotting parliamentary elections, in order for BDI to appear on the surface and meet its goal. In several ballot centers, the Albanian presidential candidate received 0 votes, 2 votes, 5 or 15 votes, which shows  that in the Albanian inhabited areas there's no democracy. The threatening atmosphere that the Albanian voters face was unbearable. We may boycott the elections, because we don't even have the most elementary conditions for the voting", said an official of PDSH.
The Macedonian opposition too is thinking on boycotting the elections. Analysts and opposition media have warned that such option is being deliberated.
Brank Gerovski, an analyst in favor of the opposition, writes today that the opposition has no other alternative but boycott the second round of the presidential elections in order to delegitimize the institutions. Gerovski says that this is the only way to challenge the current government. /ibna/