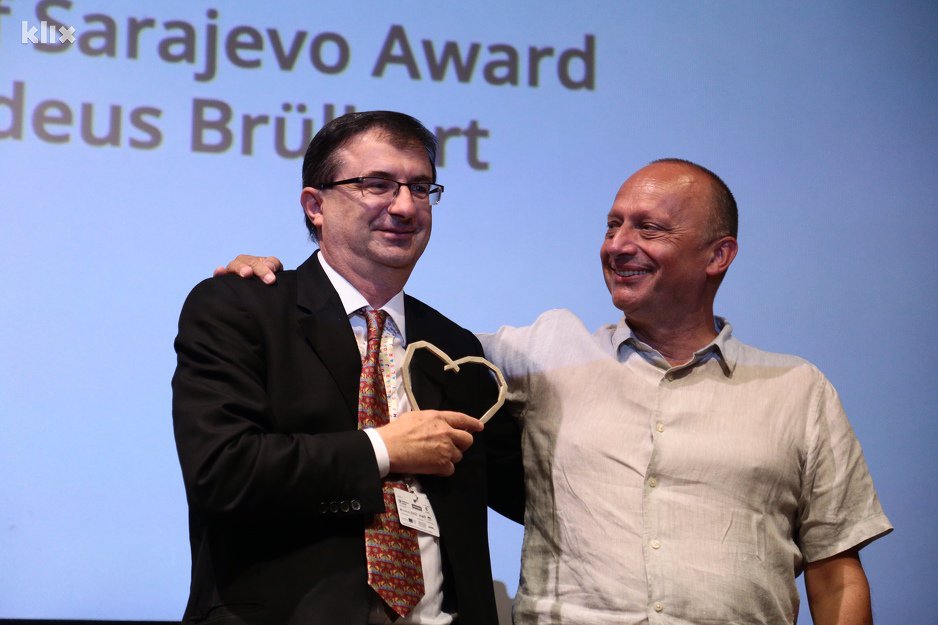 Sarajevo, August 16, 2016/Independent Balkan News Agency
By Mladen Dragojlovic
Swiss diplomat, Wolfgang Amadeus Brülhart, received the Honorary Heart of Sarajevo Award at the Human Rights Day in recognition of his contribution and support to Obala Art Centar, and the initiative to build the Meeting Point cultural center, which is recognized today as Sarajevo Film Festival's main cinema and meeting point.
"In his capacity as the Deputy Chief of Mission and Cultural Counselor at the Embassy of Switzerland in Bosnia and Herzegovina in the 1996-98 period, Brülhart was one of the initiators of the revival of the cultural scene in Sarajevo. During that period, Switzerland donated nearly 100 million Swiss francs for reconstruction and development of Bosnia and Herzegovina, including nearly 2 million Swiss francs donated for culture or specifically for reconstruction of cultural institutions, promotion of cultural exchange in Bosnia and Herzegovina and former Yugoslavia and promotion of cultural exchange between Bosnia and Herzegovina and Switzerland", said SFF press service in announcement.
They emphasized that Brülhart recognized the importance of reviving the spirit of culture for the healing of the war-torn city and had therefore initiated numerous cultural project and programs for exchange and meetings of B&H and Swiss artists, as well as numerous music concerts and theater performances. He was also one of the initiators of the construction of the Meeting Point as a culture center and a meeting place of artists in Sarajevo which now also serves as the official cinema of the Sarajevo Film Festival.
"As the result of his efforts, the initial funds had been provided at the time for the construction of the Meeting Point", explained the SFF press award for this diplomat.
Additionally, the SFF will mark the Human Rights Day with the screening of documentary film "Among The Believers", directed by Mohammed Ali Naqvi and Hemal Trivedia, after which will be organized a panel discussion with this year's topic: "Can we fight violent extremism through education?".
Festival Press service said that this film brings disturbing and revealing research of the expansion of radical Islamic learning of the school 'Red Mosque' in Pakistan that trains generations of children to dedicate their lives to jihad, or the holy war since their early childhood.
"The panel discussion after the screening will open a number of questions on this issue, such as how can we confront violent extremism through education, whether new ideas can defeat the old ideology or how can we remove discriminatory theories from the curriculum and incorporate lessons of peace, pluralism and tolerance", announced the SFF.
Photo: Klix.ba