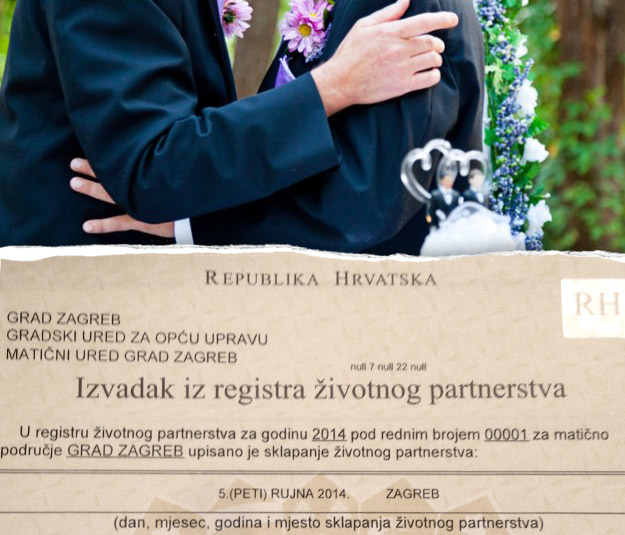 By Marija Avramovic – Zagreb
Late last week in Zagreb the first lifetime partnership was concluded in a small, family only ceremony, which was also attended by Administration Minister Arsen Bauk, who gifted the newlyweds with two ties.
On Friday, NGO Zagreb Pride announced on its Facebook page that the first life partnership was concluded in Zagreb.
"Good luck and all the best to the two grooms from Zagreb Pride!", read the Zagreb Pride's post.
On Twitter profile they have published a photo of the first partnership certificate with the caption: "Croatia has created history tonight, here's how it looks the first partnership certificate".
"On behalf of the Croatian goverment I gave them two ties. A symbolic gift to the first couple who made ​​a life partnership", minister Bauk said for portal index and revealed that, so far, the ministry have received 17 such requests from different parts of Croatia, mostly from Zagreb.
"This is a big step forward", he added.
The Parliament passed the Civil Partnership Act on July 15, which defines the family life two people of the same sex as a community.
In the city of Zagreb, all applications for the conclusion of the life partnership can be delivered in the central department of marriages in Crnomerac.
Life partnerships may be concluded by thirty registrars in Zagreb and no registrar has appealed to conscientious nor anyone of them had said they did not want to marry gay couples.
The intention of getting into the life partnership shall be delivered personally. The couple must come together with the required documents.
It is necessary to bring the proof of citizenship, and pay a fee of 300 kuna. The deadline for the conclusion of life partnerships from the date of the application is 30-45 days, but in exceptional circumstances the registrar may set a shorter deadline.
Foreign citizens who wish to enter into a life partnership in Croatia will have to prove that they are not already married  and enclose a proof of citizenship.
Congratulations to the first same sex community in the region and we expect more of them in the coming months.