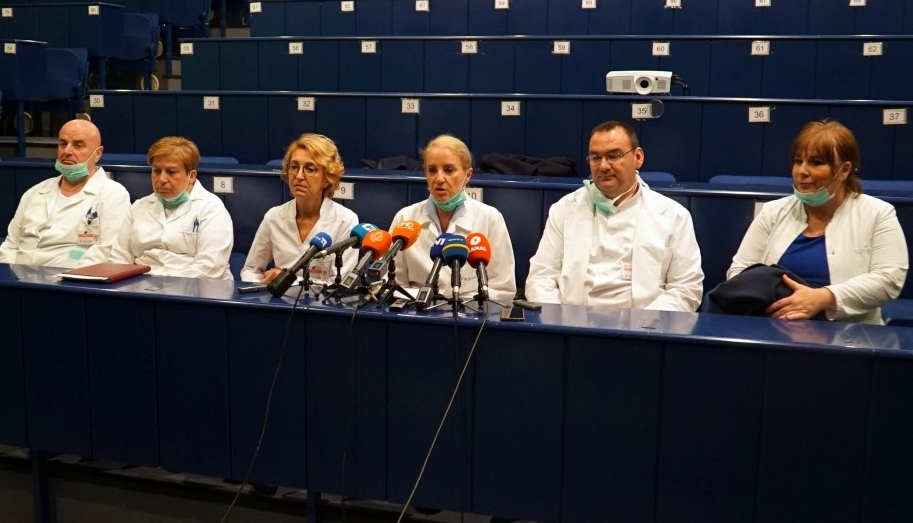 Three Chinese citizens were admitted to the Sarajevo University Medical Centre and are being tested for the coronavirus, the head of the Centre, Sebija Izetbegović, said at a press conference on Tuesday, adding that the test results should be available by the end of the day.
"We must inform the public about the truth as we have noticed that disinformation about the Clinical Centre is being spread. It is true three patients were brought in and they are Chinese tourists. It is not true that they have high fevers. They came in with symptoms of a cold, one of them with symptoms of the common flu," she said.
Izetbegović explained that the tourists came from areas far away from the hotspots of the virus.
She also confirmed that a group of elementary school pupils, who returned from a trip to Milan, Italy, are currently in quarantine at their homes.
"We don't know what they were exposed to and where they moved. We only know that they have a fever", she said.
It is still unclear who approved the trip to Milan despite the fact that the coronavirus infection had already begun in North Italy at the time when they departed Sarajevo. Moreover, pupils, professors and school director went to school on Monday and then the Ministry ordered them to go home.
The first case of the coronavirus was confirmed in Croatia on Tuesday. The person who caught the virus also spent time in Milan.
As the situation in the world rapidly changes, one could expect the emergence of cases in BiH as a whole, the Federation BiH Health Ministry said on Monday.
"In line with recommendations of the World Health Organisation (WHO) and acting on the order of the Health Ministry's Crisis Staff, the Ministry is implementing increased epidemiological supervision on all border crossings in the FBiH, aimed at early detection of potential Coronavirus cases and preventing it from spreading further", the Ministry said.
This means entrance screening for all the patients coming from China with passengers filling out the sanitary questionnaire and providing data to competent health care institutions.
The Ministry said the passengers would be given recommendations and telephone numbers they need to contact in case they start having any of the symptoms, the ministry noted.
According to ministry officials, all the foreign and BiH citizens with permanent or temporary residence in the FBiH who are returning from China will be placed under health care supervision and mandatory daily check-ups and a 14-day self-isolation.
Republika Srpska also introduced measures to detect and fight the coronavirus infections. In the meantime, there are no more protection masks in pharmacies, as citizens have purchased all of them for personal protection./ibna