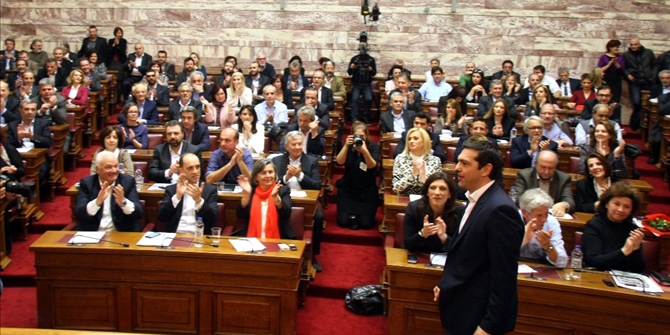 Athens, August 17, 2015/ Independent Balkan News Agency
By Spiros Sideris
"The unity of SYRIZA has taken a blow, but we have to determine the future course together", declare in a letter 17 MPs of SYRIZA, who voted differently in the last vote ("Yes", "No", "Present").
The 17 MPs note in their letter that "the government must redefine its stance to the new circumstances and conditions". In this context, they express their confidence that "the implementation of the Memorandum can't constitute the plan for a government of the Left", but that "neither the separation in the currency alone may be an alternative political project for the social groups affected, since a Grexit at all costs is not a viable solution."
They also argue that SYRIZA should ask for the vote of the people with a program that will result from the Congress and will respond to the new situation and programmatic and strategic objectives, stressing the importance to head to that direction, "in an orderly manner", "away from anti-companion behaviours , surprises and easy answers".
In addition, they state determined to contribute with all their powers so that SYRIZA reaches united in the Congress proceedings, "which must begin immediately".
"And it goes without saying, for us, that the Congress and its procedures must be carried out before the election", they add.
"Tsipras passed Schauble's exams"
As a "good student" who passed the exam of Wolfgang Schäuble presents the site of the Left Platform, iskra.gr, Prime Minister Alexis Tsipras, shortly after the message of unity from the 17 SYRIZA MPs.
In an article published on the site, Tsipras gave the exam and passed with flying colours, taking EUR 23 billion for the bankers.
Furthermore, he writes that the prime minister is the third in line after George Papandreou and Antonis Samaras who is being "swallowed" by the Memoranda, who will radically change SYRIZA, transforming it into a systemic conservative party.