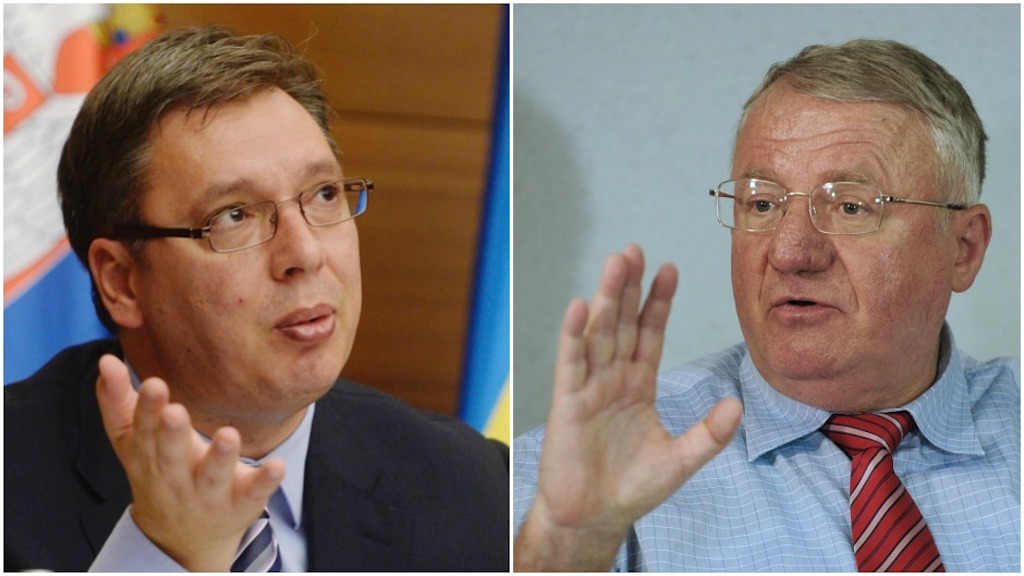 The incident which Vojislav Seselj, leader of the far right Serbian Radical Party (SRS), in the parliament, during the visit of the Croatian delegation on Wednesday, could not have been possible without the support of the ruling Serbian Progressive Party (SNS), led by president Aleksandar Vucic.
Serbian opposition says that Seselj enjoys Vucic's backing, while Croatian officials insist that Belgrade has tried to relativise extremists' hooliganism in the parliament.
Furthermore, after formally condemning the incident Vucic claimed that what he was faced with during his visit to Zagreb earlier this year "was much worse".
Seselj has verbally attacked the Croatian delegation headed by Gordan Jandrokovic, president of the Croatian parliament, and trampled on the Croatian flag. Afterwars, the official guests decided to cancel their other planned meetings, including the one with Vucic, and leave Belgrade.
Aleksandra Jerkov, Democratic Party's (DS) member of Serbian parliament, said that everything that Radicals do "is blessed by Aleksandar Vucic".
While diplomatic attempts by the Croatian president Kolinda Grabar-Kitarovic and the country's prime minister Andrej Plenkovic to interpret the incident as the individual act of an extremist, Jandrokovic's claim that Serbian officials have tried to relativise what Seselj did could hardly be denied.
Late on Wednesday, Vucic condemned the incident, saying that "the trampling on the flag of any sovereign country is unacceptable". However, he immediately added: "The question is why this has happened. It's on us to condemn it, and that is what makes the difference between us and the Croats; when I was in Zagreb, except Kolinda Grabar-Kitarovic who condemned the incident, they did nothing".
Vucic claimed that during his visit to Zagreb some Croatian MP was "chasing" him in the streets and that several Serbian flags were burnt. However, none of this occurred inside Croatian government institutions, including the parliament. Seselj took the Croatian flag from the building of the Serbian parliament and, accompanied by another Radical MP, trampled on it.
Serbia's ambassador to Zagreb, Mira Nikolic, refused to accept (signing) a protest note from the Croatian foreign ministry, alleging that "Serbian officials did not do anything bad". She also claimed that Vucic was faced with a "series of even worse nuisances" during his recent visit to Zagreb.
From 1993 to 2008, as secretary general of the Serbian Radical Party, Vucic was Seselj's closest ally. The split between them occurred ten years ago, when Vucic decided to take a pro-European course. Although Seselj's  SRS party is de jure opposition and de facto supports Vucic's government, it does not belong to this government…. / IBNA