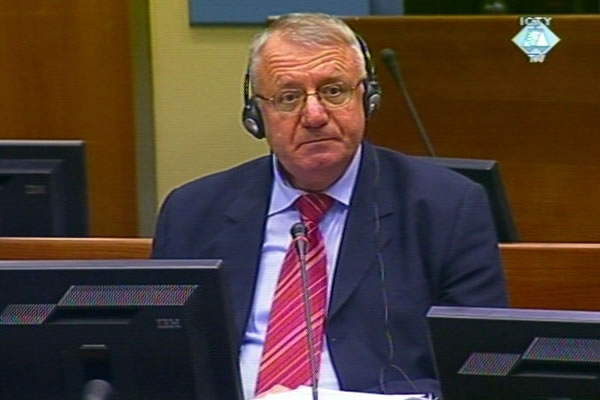 By Milos Mitrovic – Belgrade
Serbian Radical Party (SRS) leader Vojislav Seselj, who is in the detention centre of the Tribunal for the war crimes committed in the former Yugoslavia (ICTY) since February 2003, may be temporarily freed, the judge Jean Claude Antoinetti has announced.
Nemanja Sarovic from SRS confirmed to B92 Television that Antoinetti had demanded from both prosecution and defends to submit their position on the release within seven days.
According to Sarovic, Antoinetti had demanded so due to "uncertainty about the timing of the verdict and the fact Seselj is in The Hague (Tribunal seat) for 11 years".
Antoinetti's demand followed the fourth delay of the verdict pronouncement. The judge MadialeNiang, which was appointed in the jury in 2013, requested the delay in order to get additional time to study the case. Sarovic said that the latest delay has been "crowning evidence" that Seselj's right on legal proceeding in reasonable time was trampled.
Nenad Canak, Serbian politician who was among Seselj's top rivals at a time SRS leader was free, said that Seselj's case is probably "the greatest shame of the international judiciary ever, or at least one among its greatest scandals ever".
The UN established court treatment of Seselj, according to Canak, is shameful "whatever I think about him, and regardless of my opinion that he had committed such deeds to deserve serious time sentences", Canak who is the leader of the League of Social-democrats of Vojvodina added.
Vojislav Seseljis controversial figure. Before he entered politics in 1990, he had already spent several years in prison due to opposing Yugoslav one-party communist system. Although he was mostly in opposition during the autocratic regime of Slobodan Milošević, Seselj was among the symbols of that period; extreme nationalistic rhetoric, unscrupulous clashes with political foes and recruiting Serbian volunteers for the wars in the former Yugoslavia once made him extremely popular in Serbia and among the Serbs in the region which supported him.
After he had been indicted for war crimes in Croatia, Bosnia and Vojvodina, Seselj voluntarily surrendered to ICTY in 2003. Despite his decision to defend himself rather than to appoint lawyer and to obstruct the process at some points as well, many Serbian and international jurists believe process against Seselj is a political one.
The acting Serbian Prime Minister AleksandarVucic and President TomislavNikolic were the closest Seselj's allies in their nationalistic period. When the two have left SRS and founded their own Progressive Party in 2008, SRS popularity started to drop which eventually led to its exit from parliament.
Serbian governments since 2003 have offered ICTY their guaranties for releasing Seselj to defend himself from Serbia, but he rebuffed such help for it came from "Quisling regime in Belgrade".