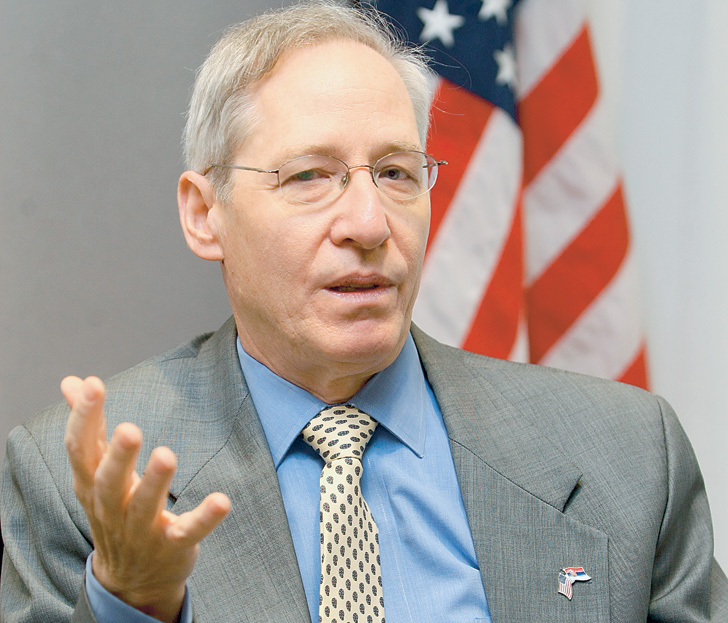 Belgrade, April 3, 2015/ Independent Balkan News Agency
By Milos Mitrovic
Serbia has changed a lot since Serbian Radical Party leader had surrendered to The Hague based International Criminal Court for the Former Yugoslavia (ICTY) in 2003 – United States ambassador in Serbia Michael Kirby said reacting to Vojislav Seselj's fresh nationalistic provocations and subsequent new crisis between Serbia and Croatia.
Kirby added that Serbia is on the pro-European path and works hard in order to have friendly relations with its neighbors, which makes it a country he would like to see, Tanjug news agency quoted him as saying on Thursday.
Seselj, who has been temporarily released from the ICTY detention center in November 2014 due to his poor health condition, burned Croatian national flag in Belgrade on Wednesday. The move of suspected war criminal alongside with the statement of Serbian high official who criticized Croatian Prime Minister Zoran Milanovic, provoked Zagreb to recall its ambassador in Belgrade for consultations and deliver a note to Serbian Foreign Ministry.
"I am a little bit surprised because Seselj keeps doing things he did before, such as burning Croatian flag. This doesn't represent Serbia I get used to in last two years", ambassador Kirby said. Serbia is not the same country as it was when Seselj went to The Hague, he added.
"It would be a pity if he tries to renew it", U. S. ambassador stressed.
Serbia is now moving towards the European Union and it will have friends in both East and West, Kirby underlined adding that Belgrade has recently made significant efforts in order to make its neighbors friends. "This is Serbia I would like to see and I'm not certain if this is Serbia that he (Seselj) would like to see", ambassador elaborated.
Considering ICTY's recent decision to recall Seselj's temporary release, Kirby said he would not be opposed if nationalistic leader goes back to the prison.
"But if he is going to live in Serbia due to court's decision, I would like that it would be a present time Serbia, rather than Serbia he left", American diplomat concluded.