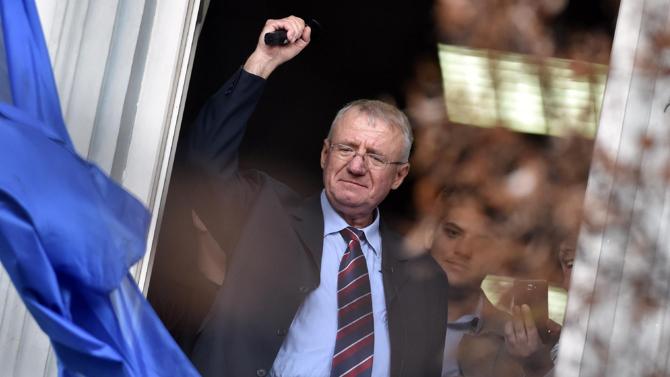 By Milos Mitrovic – Belgrade
"Brothers and sisters Serbs, The Hague tribunal has brutally thrown me out from Scheveningen dungeon. I did not ask this, they did not impose any preconditions. What they wanted to do was to get rid of me as soon as possible" – these were the first words of Serbian Radical Party (SRS) leader Vojislav Seselj, who has been temporarily released from International Criminal Court for the Former Yugoslavia (ICTY) detention centre on Wednesday. Seselj, who was indicted for the war crimes in Bosnia, Croatia and Serbian province Vojvodina, voluntarily surrendered to the ICTY in 2003.
Speaking to the crowd of his supporters before SRS seat in Belgrade, where he went straight from the airport, Seselj promised that his temporary release will last until his radicals overthrow President Tomislav Nikolic and Prime Minister Aleksandar Vucic, his former allies and SRS ex-high officials.
Seselj said Vucic and Nikolic "are apostates and traitors of Serbian people, who have sold their honour and became the servants of the Western powers". "Since traitors progressives have come into power they have never put at the table the issue of illegal Hague Tribunal", Seselj underlined alluding to Serbian Progressive Party (SNS) led by Vucic and previously Nikolic.
Unlike Vucic and Nikolic, Seselj is against Serbian joining the EU and strives for a pact with Russia instead. Mentioning "betrayal" (by Vucic and Nikolic) Seselj undoubtedly points, among other things, to normalisation of the relations between Belgrade and Pristina accepted by President and PM.
Vucic reacted today by talking about "two kinds of politics". "One is politics of insults, and the other is politics of work and self-sacrifice". "To Vojislav Seselj I wish good health – if he is sick – and to recover as soon as possible and nothing else matters", PM stressed.
Seselj admitted that his "struggle" against ICTY lasted longer than he has expected. He called ICTY the "wounded beast of globalism which destroy the lives of the prominent Serb politicians and generals".
The decision on Seselj's temporary release was made last week, allegedly due to medical reasons. Seselj namely, has liver cancer. The release was de facto unconditional, unlike earlier tries for temporary freeing, which were rebuffed by Seselj due to preconditions such as house arrest in Belgrade and forbidden access to the media.
Rasim Ljajic, the head of Serbian council for the cooperation with the ICTY claimed that Seselj has been released because the Tribunal "did not know what to do with him".
"Long live Greater Serbia!", Seselj concluded in his speech.
SRS, who became extra-parliamentary group after Vucic and Nikolic's split with imprisoned Seselj, announced a great rally in Belgrade for Saturday. From 1992 to 2012 SRS was among the main parties with the largest number of MP's in some periods.
Aleksandar Vulin, minister in Vucic's government who last week said that ICTY released Seselj in order to "destabilise the political situation in Serbia and intimidate the PM", gave today an even harsher remark: "The Hague Tribunal is controlled by United States which has released Seselj and now say throw his mouth that they will overthrow Serbian government".
Tabloids close to Vucic accused U.S. and EU ambassadors in Serbia for plotting against Vucic.
Vucic today indirectly insinuated there's an "American factor" regarding the Seselj's release. When asked by a journalist to comment N1 Television live coverage of Seselj's arrival in Belgrade and gathering before the SRS seat, Vucic answered with counter-question: "And who does this Television network belong to?" After journalist replied "American", PM shrugged, Danas daily reports. Journalist than asked Vucic what his question meant and he answered "this is simple question". "But I support American investments in Serbia".
Political analysts do not expect political earthquake, because of Seselj's comeback. Dejan Vuk Stankovic said that his return would just slightly improve SRS ratings. Djordje Vukadinovic said that Seselj will significantly affect politics in Serbia "but his goal to topple the government is too ambitious".
Seselj's release sparkled reaction in neighbouring Croatia. President Ivo Josipovic said that Seselj's case illustrates "inefficacy of international law", while Prime Minister Zoran Milanovic stresed that SRS leader "would be sentenced in every country", adding that "this man has calling to murders and annihilations".