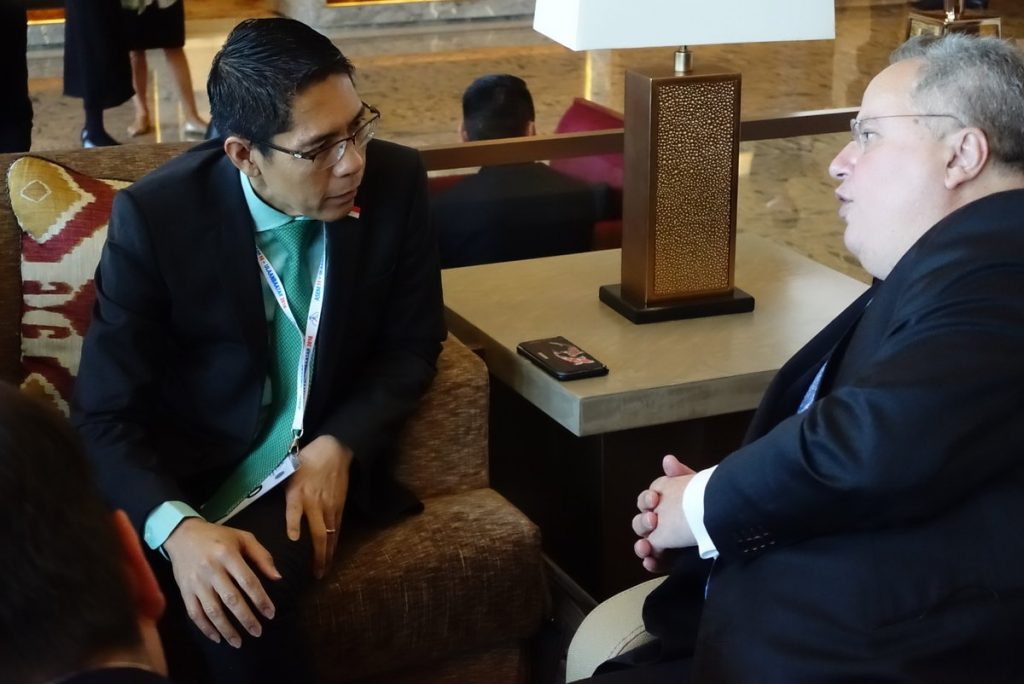 Ulaanbaatar, July 15, 2016/ Independent Balkan News Agency
By Spiros Sideris
Foreign Minister, Mr. Nikos Kotzias, met today with the Foreign Minister of Singapore, Mr. Vivian Balakrishnan, Dr. Mohamad Maliki Osman, Senior Minister of State and Foreign Affairs of Singapore and Minister of Foreign Affairs of Norway, Børge Brende in the framework of the works of the ASEM Summit in Ulaanbaatar, Mongolia.
During the first two meeting, with the Singapore's Ministers, the state of bilateral relations were discussed and both sides showed willingness to further promote them. Mr. Kotzias referred to the historical cultural ties between the two countries and expressed the intention of Greece to proceed without delay to establishing an embassy in Singapore.
The ministers also discussed international and regional issues of mutual interest, and investment issues. Mr. Kotzias briefed his counterpart on the emergence of Piraeus port as a pivotal hub for the Mediterranean and Europe, and expressed the interest of Greece to attract investments in the technology and financial sectors from Singapore. The two Foreign Ministers agreed, finally, on the need to foster bilateral cultural and academic exchanges, an issue which will be discussed during Mr. Kotzias's visit to Singapore in November.
Nikos Kotzias and his Norwegian counterpart, Børge Brende, discussed issues of international and regional interest mainly focusing on the future of Europe and the Syrian issue and the impact this has on the security in the Middle East and Eastern Mediterranean.
Finally, Mr. Kotzias had the opportunity to develop the Greek position for the solution of the Cyprus Issue, which, as he explained, cannot be solved without the withdrawal of the occupation troops and the abolition of the anachronistic system of guarantees.
Foreign Ministry condemns terrorist attack in France
The Finance Ministry stresses in an announcement it issued: We express our outright condemnation and our disgust for the new deadly terrorist attack in France. Our thoughts are with the French people and the families of all the innocent victims, to whom we convey our sincere condolences.
On the anniversary of the French Revolution, the cradle of the ideas of liberty, equality and fraternity, was once again targeted by obscurantism and barbarism.
The acts of barbaric terrorism are doomed to fail. We express confidence that against the extremists, France, the beacon of the Enlightenment ideas of democracy and freedom, will continue to ceaselessly illuminate Europe and the world.