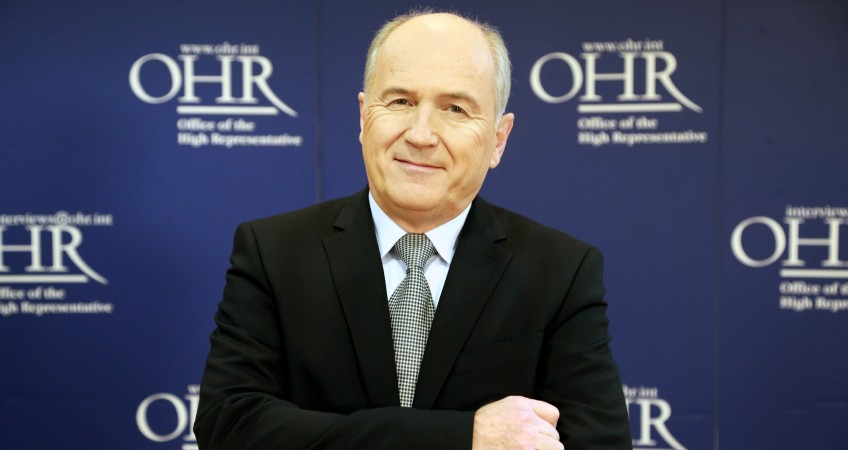 The international community High Representative to BiH, Valentin Inzko, calls on the cantonal assemblies to implement the Constitutional Court ruling without further delay and reminds that until the respective cantonal constitutions are amended relevant provisions of the Constitution of the Federation of BiH have supremacy and directly apply.
Inzko reminds that, in May 2018, the Constitutional Court of the Federation of BiH determined that several provisions of the constitutions of Posavina, Herzegovina-Neretva, and West Herzegovina cantons violate the Constitution of the Federation of BiH as they do not recognize the constituent status of the Serb people, the Serb and Bosnian languages as the official languages and the Cyrillic script as one of the two official scripts. The Court therefore ordered the three cantonal assemblies to amend their constitutions within 6 months. None of the assemblies has so far done this.
"Ensuring that all constituent peoples of Bosnia and Herzegovina enjoy the same rights in every part of the country is a fundamental pillar of Dayton. Upholding the rights of constituent peoples but also of all citizens is the only way to ensure that Bosnia and Herzegovina can develop as a secure and sovereign democracy that respects European values," said the High Representative.
Đorđe Radanović, the chairperson of the Committee for Protection of Serbs' Rights in the Alliance of Serb Associations in the Federation of BiH, believes that assemblies of three FBiH cantons should harmonise their constitutions with the FBiH Constitution independently and without the international factor in order to ensure the constituent status to the Serbs there.
"The Committee for Protection of Serbs' Rights in the FBiH has always insisted on amendments to cantonal constitutions because it is necessary to introduce the Serbian language as an official language and the Cyrillic alphabet as official script in the Cantons where no such thing has been done and for constituent status to finally provided to the Serbs in those cantons," Radanović said on Thursday.
He pointed out this was supposed to be done by the local authorities, not by someone else, especially not by anyone from the international community. Radanović emphasised that the Prosecutor's Office of Bosnia and Herzegovina ought to launch investigations about the people in the cantons responsible for the failure to execute decisions of the BiH Constitutional Court./ibna