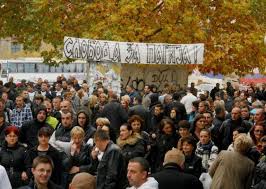 Pristina, October 30, 2013
In spite of their initial objections, Serbs in the north of Kosovo have now changed their mind and are ready to participate in the local government elections.
The majority of them want to remain anonymous.
"Yes, I want to participate in the elections and I hope that after these elections, several things will be clearly defined. I also hope that those things will move forward", said a voter.
Some expect changes after these elections, while several of them have expressed their disappointment and are hopeless that anything will change after this date.
"The climate is still unclear, but I hope that after the elections, the situation will improve for the best for the Serb population and for the entire population of Kosovo".
Meanwhile, Albanian citizens are determined to participate in these elections. Feriz Peci from the village of Zhazha, in the commune of Zvecan sees the representation of Albanians in the communal assembly as a big problem.
"We are not many here in the commune of Zvecan and there are not many chances for us to be represented with our representative in this commune. It would be better if we won something too and at least to have a councilor in the commune of Zvecan to hear our problems, because Serbs never hear our problems", said Peci. /ibna/