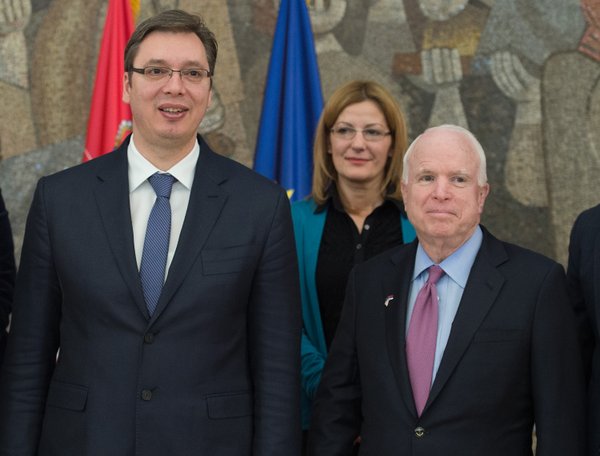 Belgrade, February 13, 2016/Independent Balkan News Agency
By Milos Mitrovic
Serbian government has been praised twice this week by foreign high officials, amid both refugees' crisis and campaign for general elections which are to be organized this spring. April 24 is most probable voting date. On Friday John McCain, president of the United States Senate Armed Services Committee, hailed the government in Belgrade over its role in refugees crisis.
"We are very glad to be here, because the government (of Serbia) has enabled us to see transit of the refugees over its territory", McCain said at the media conference with Prime Minister Aleksandar Vucic. In his words, citizens of Serbia should be "proud" of their government for the way it manages the crisis.
McCain also said that the Belgrade's efforts on normalizing its relations with Pristina have been more than just "recognized and praised". Serbia is also committed to EU membership as well as to the reforms required for it, the senator went on. Furthermore, McCain commended Vucic's government for improving the relations with Albania and Bosnia and Herzegovina.
"We live in a dangerous world, the number of refugees has never been higher since the Second World War and this puts greater focus on relations between our countries, especially democratic countries which Serbia certainly is; it has achieved this due to its hard work", he concluded.
McCain congratulated Vucic on the Serbian National Holiday, February 15.
McCain visited Serbia alongside with Senators Sheldon Whitehouse and Bob Corker, Chairman of the Senate Committee on Foreign Relations.
The Whitehouse stressed that Senators from both US parties have praised Serbia's role in refugees' crisis.
"Serbia is a beautiful country and I will support Prime Minister Vucic's vision for its success and I will see to it that as many as possible American businessmen start their business here", Corker said.
Corker also said that Serbia was a stability factor in the region.
Earlier this week ahead his visit to Belgrade, Austrian Foreign Minister Sebastian Kurz hailed Serbia as an "anchor of stability" and praised Vucic for his committment to reforms.
The refugees crisis was the main reason for Kurz's visit to Belgrade as Austria prepares to close its borders.